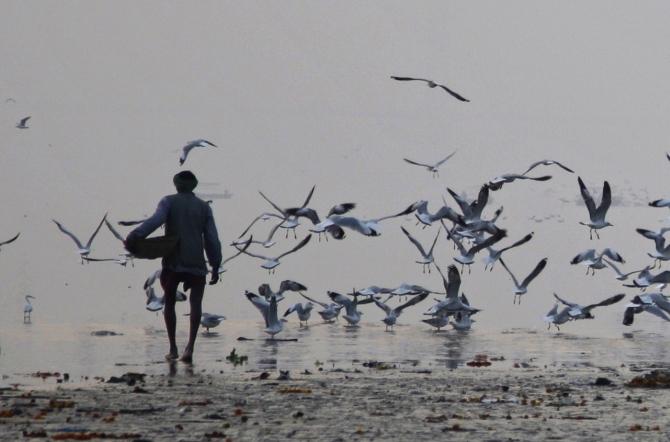 A vendor carrying a basket of flowers walks as migratory birds fly over the banks of Sangam, the confluence of the three holy rivers Ganga, Yamuna and Saraswati, amid fog on a cold evening. Photograph: Jitendra Prakash/Reuters
Curiosity is brewing with recovery of 50 more bodies from river Ganga in Unnao on Wednesday, taking the number of such recoveries over the last few days to 100 and prompting the Centre to ask Uttar Pradesh government what was happening.
While about 30 bodies were recovered yesterday, 50 more were found today from the river Ganga in Safipur area of Unnao district.
So far 80 bodies have been taken out from the river near Pariyar ghat, District Magistrate Saumya Agarwal said. She said the exact number of the recoveries could not be confirmed as bodies were still being recovered.
Unofficially, the body count is said to be more than 100. As the curiosity was brewing over the mysterious recoveries, Inspector General of Police (Law and Order) A Satish Ganesh said these were bodies ostensibly of unmarried girls and children who were disposed off in the river by their kin as part of last rites.
The bodies surfaced after water receded near Pariyar Ghat, he said. "During preliminary investigation, local residents informed that instead of cremating the bodies of unmarried girls they are set adrift in the Ganga River," the IG said.
"Most of the bodies were badly mutilated so it was difficult to ascertain their gender," he said. The DM said post-mortem was not possible as per the opinion of the doctors and instead sampling was being done for DNA testing.
A team of doctors led by Chief Medical Officer Geeta Yadav is taking forensic sample of the bodies. In a related development, the sanitation workers have refused to take out the bodies from the river as they are in a very bad shape, an officer said.
In Delhi, Union Minister for Water Resources and Ganga Cleaning Uma Bharati said, "We have also received information through the media, party workers and ministry officials over the issue."
She said she had spoken to the district magistrate of Unnao and "I have also sought information from the Uttar Pradesh government on how it happened."
© Copyright 2023 PTI. All rights reserved. Republication or redistribution of PTI content, including by framing or similar means, is expressly prohibited without the prior written consent.