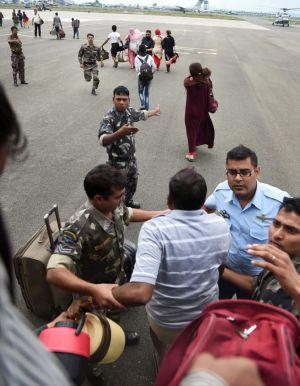 Over 1,42,000 people have been rescued from the flood-ravaged parts of Jammu and Kashmir so far, as the relief operations launched by the Armed forces entered the 12th day on Saturday.
"Armed Forces and NDRF have so far rescued over 1,42,000 persons from different parts of J&K in the ongoing rescue and relief operations," a defence spokesperson said.
Thirteen tonnes of water purifying tablets and six water filtration plants with a capacity to filter 1.2 lakh bottles per day has already reached Srinagar, he said.
Suction pumps and other engineering equipment from Vishakhapatnam have also reached the flood affected area for relief work, he said, adding twelve sewage pumps from Delhi have also been dispatched to the Valley.
The spokesman said communication equipment of Department of Telecommunication, Army, BSNL and some private companies have also been dispatched to restore the network.
Also, thirty generator sets of 3 to 5 KVA capacity have been sent to Srinagar to provide continuous power supply in relief camps and field hospitals, he added.
Besides these, as many as 8,200 blankets and 1,119 tents have been provided to the flood victims, he said, adding, 80 medical teams of the Armed Forces Medical Services are already operating in full swing.
Four field hospitals have been established in Avantipur, Pattan, Anantnag and Old Airfield where medical aid is being provided to the ailing people, he said, adding that till now, they have treated more than 22,500 patients.
Military medical services from Bathinda have also been shifted to Srinagar, he said, adding that about 10 tonnes of medicines and other health care materials, including mobile oxygen generation plant, have reached Srinagar from Delhi.
More relief materials, including blankets and tents, water bottles from IRCTC and food packets, are being airlifted from Hyderabad, Ahmedabad, Baroda and Amritsar, he said.
25 tonnes of Indian gram (channa) from NAFED is also being transported to the flood affected areas, he said.
Eighty six transport aircraft and helicopters of Indian Air Force and Army Aviation Corps are continuing their efforts in rescue and relief operations, he said, adding, Army has deployed around 30,000 troops for rescue and relief operations, of which 21,000 troops are deployed in Srinagar region and 9,000 troops in Jammu region.
Armed Forces personnel are distributing water bottles and food packets on a large scale, he said, adding, that till now, more than 4,00,000 litres of water, 1,31,500 food packets and over 800 tonnes cooked food have been airdropped and distributed in the flood-affected areas.
So far, 1,771 sorties were undertaken by helicopters and aircraft of Armed Forces and 2,371 tonnes of relief materials airdropped by the Indian Air Force, he said.
A total of 224 boats of Army and 148 NDRF's inflatable boats have also been put into service, he added.
Armed Forces have also established 19 relief camps in Srinagar and Jammu region.
"In Srinagar region, camps were established at BB Cantt, Avantipur, Old Airfield, Sumbal, Chattargam and Jijamata Mandir, where thousands of rescued people are being sheltered," the spokesperson said.
They are also being provided with food and other basic amenities, he added.
To restore the road connectivity, five task forces of Border Roads Organisation, which include 5,700 personnel, have been deployed in Srinagar, Rajouri and Akhnoor, he said.
As of now, they have restored the road connectivity from Batote–Kishtwar, Kishtwar-Anantnag and Jammu-Poonch. On the Jammu-Srinagar highway, BRO personnel have cleared the road up to KM 172 (Ramsu), he said.
Communications and IT Minister Ravi Shankar Prasad said people in flood-hit Kashmir will get free telecom services for a week on BSNL network, and mobile networks have been substantially or partially restored in the valley, except Poonch.
Of the total 12,306 base transceiver stations (BTS) or mobile towers in J&K, 6,811 were submerged, he said, adding that of these the government has restored 1,208.
"People can talk free for a week on BSNL's network in the flood affected areas. We have also requested private telecom operators. They have allowed 60 minutes of free talk time everyday," Prasad said at the press conference marking the first 100 days of in the ministry.
He said 8,000 landline connections in the Kashmir valley have started working and the government has opened 5 free public calling booths at the airport.
On the status of the telecom networks in the valley, Prasad said: "Except Poonch, mobile services are either substantially or partially restored in all parts of the valley."
BSNL had on Friday said telecom services in the flood-hit Kashmir Valley are being normalised slowly with restoring of around 80 per cent of the affected network.
The state-owned firm said it had restored 92 mobile towers, which were affected by floods. Overall 473 towers are working in the Valley whereas 934 is the number for the whole state.
Other private players including Airtel, Vodafone, Idea Cellular, Aircel and Reliance Communications (RCom) have also restored their network in various parts of the state.
Image: Army personnel take the rescued flood victims to a relief camp in Srinagar. Photograph: PTI photo