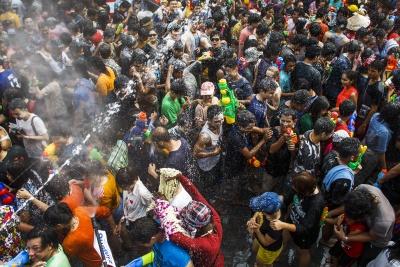 Over 100 people were killed and 893 injured in hundreds of accidents during the first two days of the Songkran festival that Thai people celebrate to welcome the arrival of spring.
Sixty-three people were killed and 491 injured in 471 accidents on April 12, the second of the "seven dangerous days" (April 11-17) of the Songkran festival, authorities at the disaster prevention and mitigation department said.
Saturday's figures added up the number of people killed and injured in the first two days of April 11-12 to 102 dead and 893 hurt in 850 accidents, Bangkok Post reported on Sunday.
Major causes of accidents are drunk driving (38.43 per cent) and speeding (25.27 per cent). Songkran is like Holi but instead of colours Thais use talcum powder mixed in water with ice in it. On Monday, Thais will celebrate Songkran festival as their traditional New Year according to their lunar calendar.
Image: Revellers take part in a water fight during Songkran Festival celebrations at Khaosan road in Bangkok. Photographer: Athit Perawongmetha/Reuters