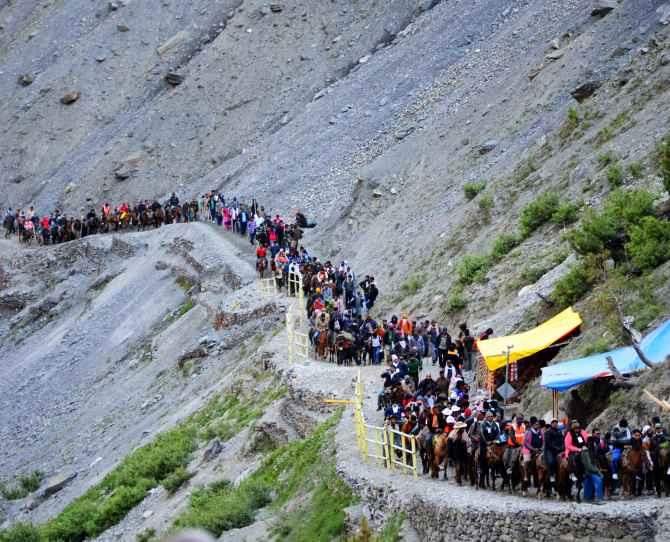 After the process opened on February 29, the registration for Amarnath Yatra crosses 1 lakh mark, reports Mukhtar Ahmad.
Over 1.43 lakh intending pilgrims have registered for this year's Amarnath Yatra beginning from July 2.
The pilgrims have made the registration through 432 branches of various banks across the country. The registration process for the 48-day yatra opened on February 29.
Jammu and Kashmir governor NN Vohra on Monday reviewed the ongoing registration process for the yatra.
The chief executive officer of Shri Amarnathji Shrine Board, P K Tripathi has appealed to all yatris to obtain registration in advance to avoid inconvenience and stressed the need to obtain compulsory health certificate from authorised government doctors or designated medical institutes.
"The 48-day long yatra will commence on July 2 and conclude on August 18, on the day of Raksha Bandhan," an official statement said.
Tripathi said that 7,500 pilgrims per day are permitted to undertake the yatra along the two routes, via Baltal and Pahalgam.
"Based on the weather conditions, the access control gates at Domel and Chandanwari will be closed at 11.00 am every day, after which no yatri shall be allowed to proceed on the tracks," the statement added.
Tripathi urged that the intending yatris must avoid staying at the HolyCave during night as the temperature drops sharply after sunset resulting in extreme cold climate.