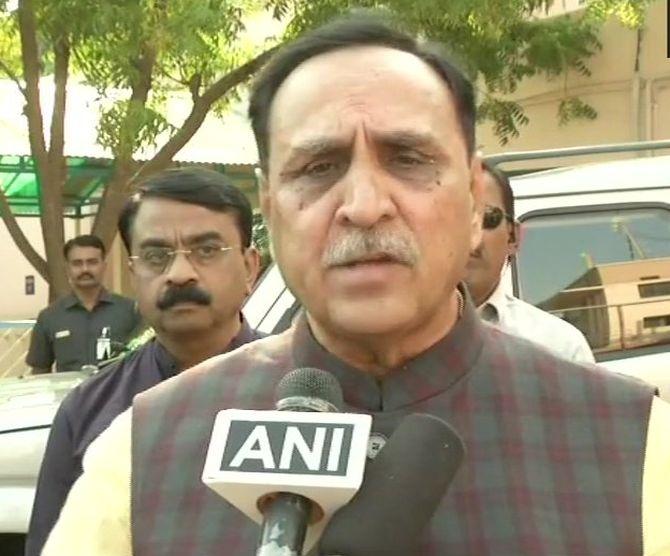 Additional forces were deployed in industrial areas in Gujarat for the security of Hindi-speaking migrants after attacks on them sparked their exodus that prompted the state government on Monday to make an appeal for their return amid a political slugfest.
Assuring security to the migrants, the Gujarat government said 431 people were arrested and 56 FIRs registered in connection with the attacks, as Chief Minister Vijay Rupani appealed to people not to engage in violence.
Claiming that no untoward incident had taken place during the last 48 hours, Rupani said the situation has been brought under control by police.
"We are committed to maintaining law and order, and people can call police in case of trouble. We will provide them security." he told reporters in Rajkot.
Chief Ministers of Uttar Pradesh and Bihar --Yogi Adityanath and Nitish Kumar -- and Union minister and Bharatiya Janata Party ally Ram Vilas Paswan, who hails from Bihar, spoke to Rupani to voice their concern.
Since the alleged rape of a 14-month-old girl in Sabarkantha district on September 28, six districts, most of them in north Gujarat, have witnessed sporadic incidents of violence against Hindi-speaking people, police said.
Police have arrested Ravindra Sahu, a labourer hailing from Bihar and working in a local ceramic factory, for the crime.
Uttar Bharatiya Vikas Parishad president Maheshsingh Kushwah claimed that over 20,000 people belonging to Uttar Pradesh, Madhya Pradesh and Bihar had fled Gujarat due to the prevailing situation.
"Over 20,000 migrants from these states have fled due to fear as Hindi-speaking people are being attacked in different parts of the state. All non-Gujaratis should not be seen as culprits for the misdeeds of one person," he said.
A leader of the Janata Dal-United, which is headed by Nitish Kumar, dashed off a two-page open letter to Congress president Rahul Gandhi, blaming his party for the violence against Biharis.
"You appointed your Gujarat MLA Alpesh Thakor as one of the national secretaries in-charge of Bihar and his outfit Gujarat Kshatriya Thakor Sena is driving out migrant Biharis," Neeraj Kumar, JD-U MLC and spokesman, alleged.
Without naming opposition Congress, Gujarat Home Minister Pradeepsinh Jadeja said efforts were underway to find out whether "it (attacks) is a conspiracy by those who are out of power in Gujarat since the last 22 years".
But senior Congress leader Ahmed Patel gave a clean chit to Thakor, alleging that the BJP government was trying to politicise the issue.
Rahul Gandhi said targeting of migrant workers in Gujarat is "completely wrong" and he is totally against it.
Taking to Twitter, he said the root cause of violence in Gujarat is the closure of factories and unemployment there due to which both the system and the economy are reeling.
"Making migrant labour their target is completely wrong. I stand totally against it," he said in Hindi on Twitter.
Jadeja asserted it is the responsibility of the state government to provide security to those who come to Gujarat for employment from other states and appealed to those who have fled to come back to the state.
He told a press conference in Gandhinagar the Centre had been apprised of the steps taken by the state government to bring the situation under control.
"The attack on migrant workers is highly condemnable. The chief minister has instructed us to take all necessary steps to stop the attacks.
"I also appeal to people not to be misled by those who are inciting people for their political gains," Jadeja said.
Jadeja said only a handful of people are involved in the violence.
"We have deployed additional forces in industrial areas for the security of migrants. We have also decided to set up points (camps) for the State Reserve Police and increase patrolling in such areas."
While police have arrested several members of the Thakor Sena in connection with the attacks and also named the outfit in some of the FIRs, its president and Congress MLA Alpesh Thakor alleged that youth from the community were being falsely implicated.
Congress leader Sanjay Nirupam targeted Prime Minister Narendra Modi, saying it must be remembered he has to contest general elections from Varanasi in Uttar Pradesh. Modi represents Varanasi in the Lok Sabha.
Condemning the rape incident, Nitish Kumar said the guilty must be punished but an entire community must not be tarred with the same brush.
"Our government is aware and alert. I spoke to the Gujarat chief minister yesterday. Our Chief Secretary and DGP are also in touch with their counterparts in Gujarat," Kumar told reporters in Patna.
"If somebody has committed a crime, he must be punished severely. But on account of one incident, people must not generalise and hold a grouse against an entire state."
Adityanath said the Gujarat chief minister told him that his government has ensured the safety of all and that are all welcome.
Rupani also informed there had not been any incident since the past three days and he has also appealed to people against paying any heed to rumours, Adityanath told reporters in Lucknow.
Adityanath said Gujarat is a peace loving state and a model of development and that those do not want development spread rumours.