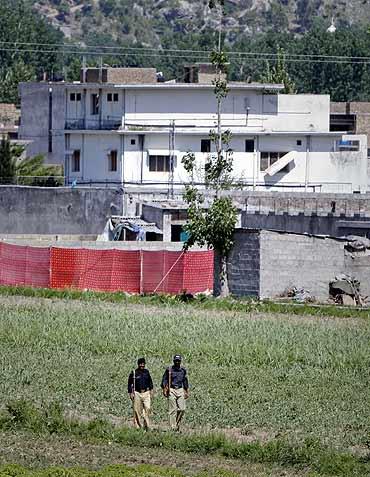 Hizbul Mujahedeen, a militant group active in Kashmir, owned the $1 million mansion in Abbottabad where Osama bin Laden was killed by United States forces, a Canadian newspaper has reported, claiming that Pakistan is trying to hush up the issue of ownership.
There are indications emerging that the terror mastermind was sheltered by one of the militant groups that has enjoyed tolerance, if not support, from Pakistani military intelligence services, Globe and Mail reported from Islamabad.
The paper quoted a Pakistani police officer familiar with bin Laden's compound to say that the mansion was used by Hizbul Mujahedeen. The group's chief Syed Salahuddin is based in PoK capital Muzaffarabad and has been accused of terror acts and fomenting trouble in Jammu and Kashmir.
"The place belonged to Hizbul Mujahedeen," the officer said. "But the authorities have asked us not to share any information about the exact ownership," he said. Land-registry officials in Abbottabad, known in the local language as patwaris, were summoned to a meeting yesterday and urged to keep quiet.
Pakistan has denied any collusion with terrorists, saying that its leading intelligence service had been sharing information with US counterparts since 2009 about the compound where bin Laden was found.
American officials have described the owners as "brothers", and neighbours recalled seeing a pair of men, possibly ethnic Pashtuns from the rugged western frontier, who largely kept to themselves.
Their names were reported in local media as Bara Khan and Chota Khan, or Arshad Pathan and Chota Pathan. A Pakistani official said the mystery surrounding the two men has deepened with the discovery that their national identity cards were faked.
"This is the first time I have heard of links between Hizbul and Osam, but its members would probably admire him," the newspaper quoted Kamran Bokhari, a Stratfor analyst as saying.