The US President Barack Obama on Sunday said the "horrific" mass shooting at a nightclub in Orlando, Florida, that killed 50 people, is an act of "terror" and an "act of hate", as he reminded the countrymen of the easy access to firearms people enjoy in America.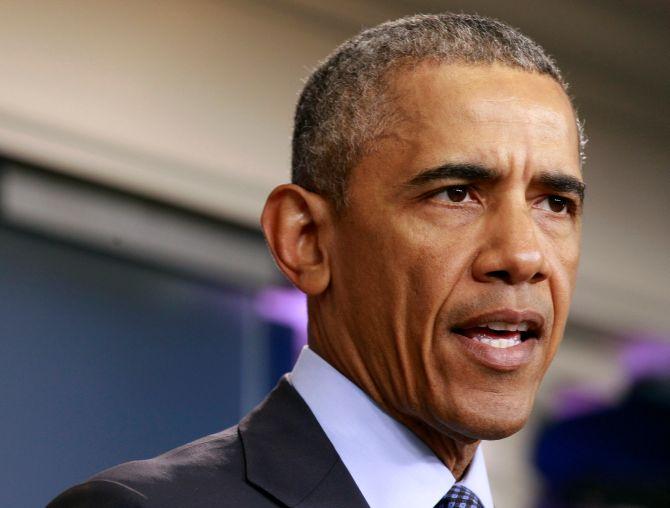 "This was an act of terror, and an act of hate," Obama said, adding that the Federal Bureau of Investigation is investigating this as an act of terror.
However, nothing is definitively known about the motivation behind this mass shooting, he told reporters at the White House on Sunday afternoon.
"This is a heart breaking day for gays and lesbian's community," a grim looking Obama said.
"Today marks the deadliest shooting in American history," he added.
In the wee hours of Sunday morning at a gay nightclub in Orlando, a lone gunman – identified as Omar Siddique Muteen, who came to the US from Afghanistan -- killed 50 people and injured 53 others.
This was the 15th time that Obama has come out to address the nation after a mass shooting.
"This is the deadliest shooting in the American history," Obama said, adding that this is further reminder of hows omeone can easily get fire arms for such violence.
Americans have to decide if having easy access to firearms is "the kind of country we want to be," he said. "We will not give into fear," Obama asserted, and assured the nation that he would take action against those responsible for this.
The President came into the briefing room soon after having met with the FBI Director and Secretary of Homeland Security.
A State of emergency has been declared in Florida. The Florida Governor, Rick Scott, has also declared the overnight mass shooting as an act of terrorism.
The US President, however, did not mention Islam or Islamic terrorism, as being blamed by some of his political opponents.
In an interview to CNN, Congressman Peter King alleged that the gunman was radicalised and an supporter of Islamic State.
Quoting unnamed law enforcement official CBS said Muteen pledged loyalty to ISIS in a 9/11 call before the shooting. He was also under FBI investigation for some time.
His father Mir Siddique has apologised for mass shooting while stressing that the incident has nothing to do with religion.
"We are saying we are apologising for the whole incident. We weren't aware of any action he is taking. We are in shock like the whole country," he told NBC news channel.
"This had nothing to do with religion," he added.
The Republican presidential presumptive nominee, Donald Trump, condemned the horrific incident in Florida.
"Appreciate the congrats for being right on radical Islamic terrorism, I don't want congrats, I want toughness and vigilance. We must be smart!" he tweeted.
"Woke up to hear the devastating news from FL. As we wait for more information, my thoughts are with those affected by this horrific act," said the presumptive Democratic presidential nominee, Hillary Clinton.
In a proclamation, the US President ordered that the national flags at all military posts and naval stations, be flown at half-staff.
Obama said this is a mark of respect for the victims of the act of hatred and terror perpetrated in Orlando, Florida.
IMAGE: US President Barack Obama speaks about the worst mass shooting in US history that took place in Orlando, Florida, at the White House in Washington. Photograph: Joshua Roberts/Reuters