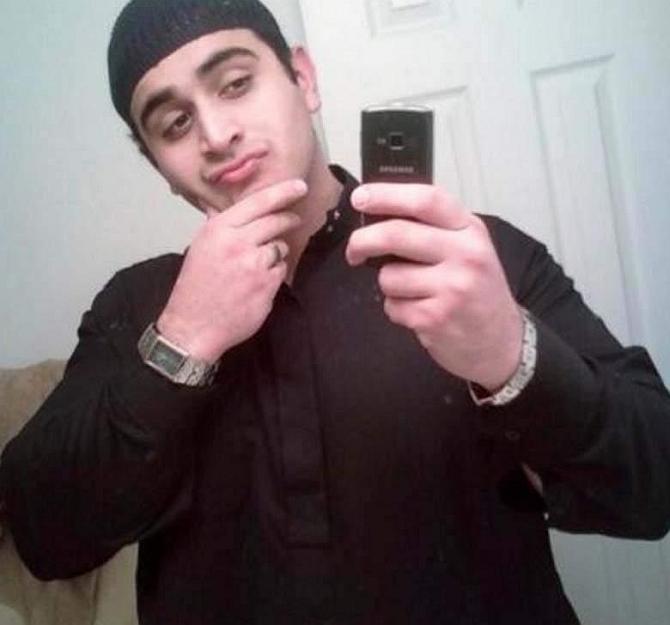 Orlando shooter Omar Mateen was a home grown terrorists who was radicalised over the internet, the FBI said, asserting that he was not part of any overseas global terrorist network, including the dreaded Islamic State militant group.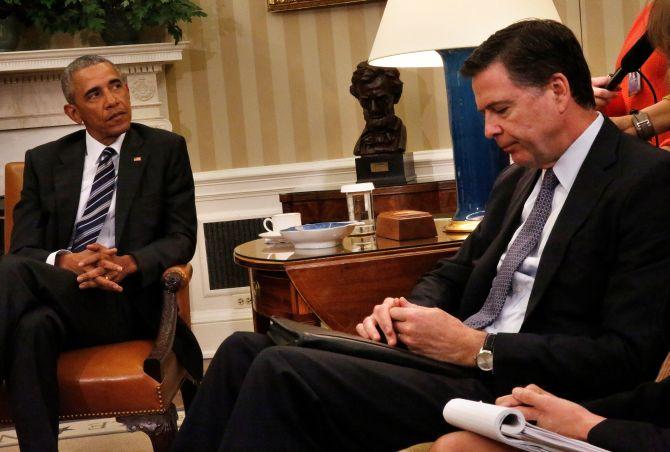 "So far, we see no indication that this was a plot directed from outside the United States, and we see no indication that he was part of any kind of network," FBI Director James Comey told reporters at a crowded news conference in Washington.
A day after Mateen killed 50 people and injured 53 others, Comey said from the investigations so far it is not entirely clear at this point just what terrorist group he aspired to support.
Although, he made clear his infinity at the time of the attack for the Islamic State and generally leading up to the attack for radical Islamic groups, he said.
The FBI is investigating the Orlando shooting as an act of terrorism.
"He (Mateen) made 911 calls from the club during the attack at about 2:30 in the morning Sunday morning and there were three different calls. He called and he hung up. He called again and spoke briefly with the dispatcher and then he hung up. And then the dispatcher called him back again and they spoke briefly. So there were three total calls," he said.
"During the calls he said he was doing this for the leader of ISIL, who he named and pledged loyalty to, but he also appeared to claim solidarity with the perpetrators of the Boston Marathon bombing and solidarity with a Florida man who died as a suicide bomber in Syria for al-Nusra Front, a group in conflict with the so-called Islamic State," he said.
The bombers at the Boston Marathon and the suicide bomber from Florida were not inspired by ISIL, which adds a little bit to the confusion about his motives, Comey said.
"And of course, we are working understand what role anti-gay bigotry may have played in motivating this attack, and attack that occurred during the very month when we recognise and celebrate our LGBT brothers and sisters," he said, adding that it is early.
"We are working hard to understand the killer and his motives and his sources of inspiration. But we are highly confident that this killer was radicalised and at least in some part through the internet. So that's what we have been doing," Comey said.
Comey said Mateen was under FBI radar prior to the attack.
The FBI, he noted, first became aware of him in May of 2013.
He was working as a contract security guard at a local courthouse and he made statements that were inflammatory and contradictory that concerned his co-workers about terrorism.
"First, he claimed family connections to Al-Qaeda. He also said that he was a member of Hezbollah, which is a Shia terrorist organisation that is a bitter enemy of the so-called Islamic state, ISIL. He said he hoped that law enforcement would raid his apartment and assault his wife and child so that he could martyr himself," Comey said.
"When this was reported to us, the FBI's Miami office opened a preliminary investigation and over the next 10 months we attempted to determine whether he was possibly a terrorist, something we do in hundreds and hundreds of cases all across the country," he said.
The investigation involved introducing confidential sources to him, recording conversations with him, following him, reviewing transactional records from his communications, and searching all government holdings for any possible connections, any possible derogatory information.
He was interviewed him twice.
"He admitted making the statements that his co-workers reported, but explained that he did it in anger, because he thought his co-workers were discriminating against him and teasing him because he was Muslim. After ten months of investigation, we closed the preliminary investigation," the FBI Director said.
Two months later, in July of 2014, the killer's name surfaced again in an indirect way, he said.
The Miami office was investigating the Florida man who had blown himself up for the Nusra front -- an Al Qaeda group in conflict with ISIL.
"We learned from the investigation that the killer knew him casually from attending the same mosque in that area of Florida. But our investigation turned up no ties of any consequence between the two of them," he said.
"In the course of that investigation, one witness told us, when asked do you know anybody else who might be radicalising? That he had once been concerned about the killer, because the killer had mentioned radicalised videos. But the witness had concluded that he later got married and had a child and got a job as a security guard, and so he was no longer concerned about him," he said.
"Our investigation again turned and interviewed the killer to find out whether he had any significant contacts with the suicide bomber for Al-Nusra, determined that he did not, and then the inquiry continued, focusing on the suicide bomber with no further focus on the Orlando killer," Comey said.
The FBI he said would continue with its investigation.
"We will continue to look forward in this investigation and backward. We will leave no stone unturned, and we will work all day and all night to understand the path to that terrible night," he said.
IMAGE: US President Barack Obama attends a meeting with FBI Director James Comey (R) along with DHS Secretary Charles Johnson (not pictured), NCTC Director Nicholas Rasmussen (not pictured), and Deputy Attorney General Sally Yates (not pictured) at the Oval Office of the White House in Washington, US. Photograph: Carlos Barria/Reuters