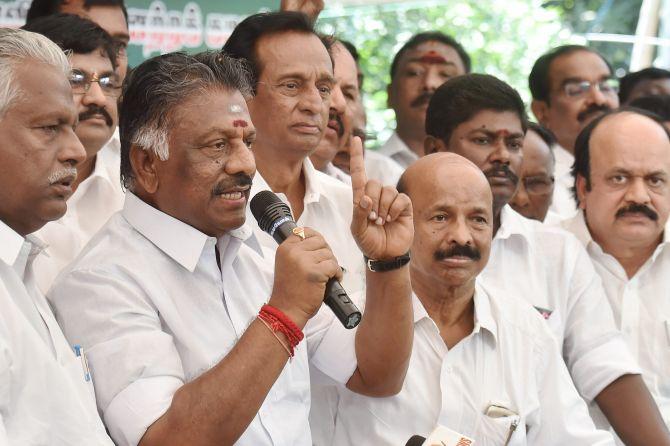 As suspense mounted over merger of the two rival All India Anna Dravida Munnetra Kazhagam factions, Tamil Nadu Chief Minister K Palaniswami and rebel leader O Panneerselvam on Saturday expressed confidence it will happen soon with the latter saying a positive result was expected in 'a day or two'.
Palaniswami, who is in Tiruvarur to take part in AIADMK founder M G Ramachandran's centenary celebrations, said he was confident that 'both the factions would merge soon'.
Panneerselvam, a former chief minister and leader of AIADMK Puratchi Thalaivi Amma faction, earlier in the day said in Chennai that the merger talks were going on smoothly and a positive result was expected in 'a day or two'.
As the warring factions headed for a merger, the T T V Dinakaran faction warned the chief minister that he would be replaced if his activities did not go down well with the party.
The chief minister said difference of opinion between the two factions had emerged earlier and that they were now being addressed through discussions.
"I am happy to inform that both the factions will merge soon," he told reporters at Tiruvarur in Thanjavur district.
Responding to a query on whether MLAs of Panneerselvam faction would get a berth in the cabinet, Palaniswami merely said, 'discussions are going on'.
"(AIADMK Supremo and former Chief Minister) Puratchi Thalaivi Amma (Jayalalithaa who is fondly called as Amma) has been guarding the party as her own eyelid. She has given various schemes and projects for the benefit of the people," he said.
Panneerselvam, who is scheduled to leave for Madurai on Sunday to attend a meeting, said a positive result was expected in 'a day or two'.
"Talks are going on smoothly. A positive result is expected in a day or two," he told reporters in Chennai.
The much expected merger between the two factions on Friday night had failed to come off following reported divergent views among the members of the OPS faction.
This included the demand of certain members for a Central Bureau of Investigation inquiry into former chief minister J Jayalalithaa's death as against the announcement of an inquiry commission to be headed by a retired high court judge.
Meanwhile, Dinakaran, the sidelined AIADMK deputy general secretary, held deliberations with his supporters at his residence in Chennai.
A Dinakaran loyalist Palaniappan, a former minister and an MLA, warned Palaniswami that he would be replaced as chief minister if his activities did not go down well with the party.
Talking to reporters after attending the meeting convened by Dhinakaran, Palaniappan said, "Our (AIADMK) rule is like a bus journey. We appointed the driver (O Panneerselvam) to take the bus (AIADMK rule) to the intended destination enabling the passengers to reach safe and secure."
"Since, his (Pannerselvam) activities did not go down well with the party, we replaced him with Palaniswami (as the chief minister). But, if his (Palaniswami) activities did not go well (while leading the party), we will definitely take action to replace him," Palaniappan said.
On Friday, Dinakaran who had travelled to Bengaluru to greet party general secretary V K Sasikala on the occasion of her birthday, downplayed the merger of the AIADMK factions, saying it would not have any longevity and that it was not a 'setback' to him.
Following the speculation of an imminent merger of the two factions, several AIADMK MLAs and supporters of both the groups had congregated last night at the burial place of Jayalalithaa at the Marina beach in Chennai.
However, merger talks remained inconclusive leading to a delay in the rival factions coming together.
Police personnel were deployed in a large number at the memorial with members of the public who wanted to offer their respects to Jayalalithaa being prevented from entering the burial site.
Two special wreaths were also kept ready apparently to enable Palaniswami and Panneerselvam to offer their respects at the burial site.
After it became clear that the merger talks would be deferred, the wreaths were removed and the public was allowed to enter the burial site later.