At the AIADMK office you could feel the vibes of victory, at OPS' home you could feel the struggle.
Rediff.com's A Ganesh Nadar reports from the epicentre of Tamil Nadu's political struggle.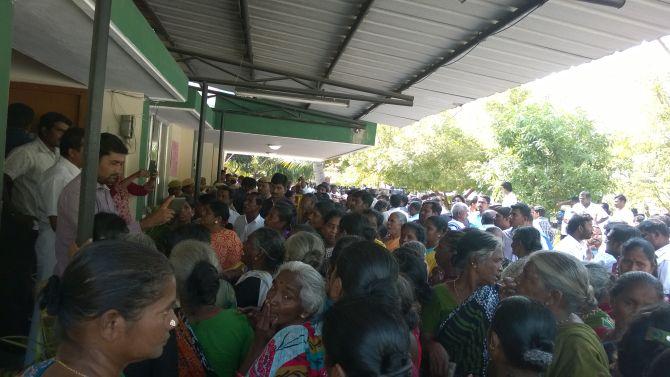 IMAGE: Crowds at Tamil Nadu Chief Minister O Panneerselvam's home in Chennai the day after his rebellion. Photograph: A Ganesh Nadar/Rediff.com
A day after Chief Minister O Panneerselvam dropped a bombshell against All India Anna Dravida Munnetra Kazhagam General Secretary V K Sasikala at J Jayalalithaa's samadhi, on Wednesday, there was a flurry of activity at both the AIADMK headquarters and OPS' home.
The AIADMK HQ in Royapettah was full of huge cars, all flying the national flag, which meant that the state ministers were present inside.
There were cars flying the national flag parked on the roadside too; the compound was not big enough to accommodate so many vehicles.
An MLA was giving sound bytes to a television channel, rubbishing OPS. "He is seeing a daytime dream. It's his imagination that the people of Tamil Nadu and all the MLAs are supporting him," the legislator said.
"All the MLAs are here and he is sitting there alone and giving speeches. His game will come to an end once the governor is back and Chinnamma meets him."
Chinnamma=Sasikala Natarajan, the chief minister-in-waiting.
By then the ministers had started leaving one at a time. One paused to give lunch money to a television news reporter who had interviewed him, who shared it with his camera crew.
The MLAs were milling around looking important. One could see Amma's and Chinnamma's photographs in their pockets and the familiar stripes on their dhotis.
Former minister Shunmuganathan from Tuticorin district was chewing on ground nuts. He refused Raj TV an interview and when a party cadre asked why, he replied, "First you must give an interview to Jaya TV and only then the others."
An oldtimer, he knew how the party worked and also followed the rules scrupulously.
Jaya TV is owned by Sasikala since Jayalalithaa's hospitalisation. Earlier, it was owned by mining baron V Vaikundaraj.
The former minister knew what would please the powers-that-be, and hopes to be back in the ministry once Chinnamma took charge.
When asked what Sasikala had said in her morning meeting with legislators, his reply was brief.
"The underlying theme of her speech was that we should remain united and not allow enemies of the party (read OPS) to split us."
Though the legislators' meeting had concluded, the MLAs seemed reluctant to leave the party headquarters.
At OPS' home a huge crowd of party cadres had gathered, including some who had Jayalalithaa's niece Deepa Jayaraj's photograph in their pockets along with her aunt's.
Nobody had OPS' photograph in their pockets though.
Sitting with OPS inside were former assembly speaker Paul Hector Pandian and V Maithreyan, a Rajya Sabha member. Both had spoken in support of OPS the previous day.
Actor Arun Pandian suddenly turned up to offer his support to OPS and was greeted with a cheer from the crowd.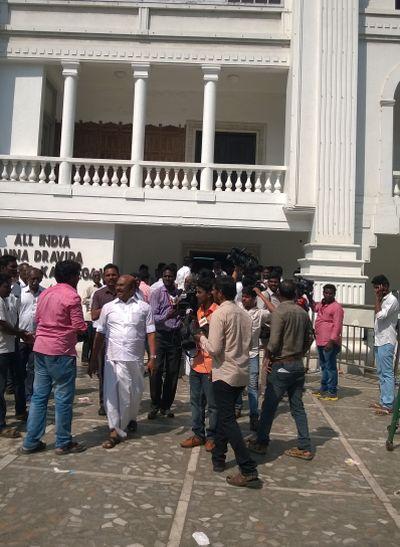 IMAGE: The AIADMK headquarters in Chennai was packed with legislators and ministers. Photograph: A Ganesh Nadar/Rediff.com
Thanthi TV's reporter Pandian too was greeted with applause and cheering by the crowds, and he waved out to them like a film star.
So while all the reporters sat outside the house, reporters from Thanthi TV, NDTV and other important television channels were granted a one-on-one with the man of the moment.
Outside, a group of women started yelling at the top of their voices. They were from Nadukuppam, which had been ransacked by the police on the last day of the jallikattu protests. They sought an audience with OPS and were told to wait till 6 pm.
The cadres said they were waiting for Deepa to join them and that she would come any time. Her supporters had already met OPS and had gone to bring her.
There was a bigger crowd at OPS' house than at the party office, but then, the important people that matter in this crisis, the legislators, were all at the AIADMK HQ.
Over here there were only two MLAs and one MP.
While in the AIADMK office you could feel the vibes of victory, at OPS' house you could feel the struggle.
The tide may turn any time, but so far Sasikala holds all the cards, and the only hurdle she has to face is not OPS in Chennai, but the Supreme Court in Delhi.
And maybe Governor Ch Vidyasagar Rao, whenever he decides to travel to Chennai from Mumbai.
Rao is also the governor of Maharashtra.
In contrast, the Dravida Munnetra Kazhagam office was in a state of snooze in the afternoon, with no one present.
There is talk that the DMK is planning to split the AIADMK, but there was no sign of that at the DMK HQ.
At DMK Working President M K Stalin's home, one was told that the leader had had his afternoon siesta. Anyone wanting to meet him had to see him at the party office.
So we have both OPS and Sasikala waiting for the governor, and the AIADMK cadres hanging around, waiting to see what happens.