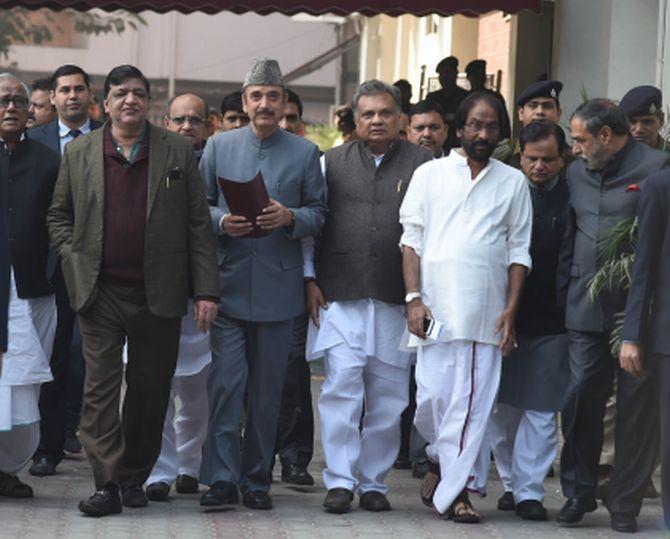 Opposition parties on Thursday moved the Election Commission objecting to the presentation of the Union Budget on February 1 ahead of the assembly elections in five states and demanded that the government be asked to defer the annual exercise till March 8, the last day of voting.
A delegation of opposition parties comprising the Congress, the Janata Dal-United, the Bahujan Samaj Party, the Samajwadi Party, the Dravida Munnetra Kazhagam and the Rashtriya Janata Dal met Chief Election Commissioner Nasim Zaidi to press that the government be asked to defer the budget presentation till at least March 8.
Punjab and Goa will go for polls on February 4 and the last phase of assembly polls in Uttar Pradesh and Manipur will be held on March 8.
"When the opposition had objected in 2012 during the assembly polls to these five states, Congress had accepted their stand and postponed presentation of the Union Budget from February 28 to March 16. We want that there should be no presentation of the Budget till the elections are over," Leader of the Opposition in Rajya Sabha and Congress leader Ghulam Nabi Azad told reporters after meeting the EC.
Another party leader Anand Sharma said no government in the past has used the Budget to influence voters in the midst of a poll process.
Azad said electoral laws make it clear that the ruling party should have no advantage during elections and both the Opposition and the ruling side should be on an equal footing.
He said the Budget on February 1 will tilt the balance in favour of the Bharatiya Janata Party as it would use the exercise to influence voters by doling out sops.
Others who met the CEC included Derek O'Brien of the Trinamool Congress, Ambeth Rajan of the BSP, Naresh Agarwal of the SP, T Siva of the DMK and K C Tyagi of the JD-U.
Sources in the commission said a view of the government could be sought on the representation made by the opposition parties.
While the commission has said it will examine a representation made by parties opposing the February 1 Budget plan, Finance Minister Arun Jaitley has defended the move asking why the opposition parties are afraid of it when they have claimed that demonetisation is an unpopular decision.
Sixteen parties have already written to the President and EC opposing the decision to have an early Budget session beginning January 31.
IMAGE: Opposition leaders come out after a meeting with the Election Commission to demand postponing the Union Budget presentation ahead of the assembly polls. Photograph: PTI Photo