Opposition parties on Wednesday latched on to Vijay Mallya's statement that he had met Arun Jaitley before leaving India, and demanded a probe into the fugitive liquor baron's claim, which was rubbished by the finance minister as "factually false".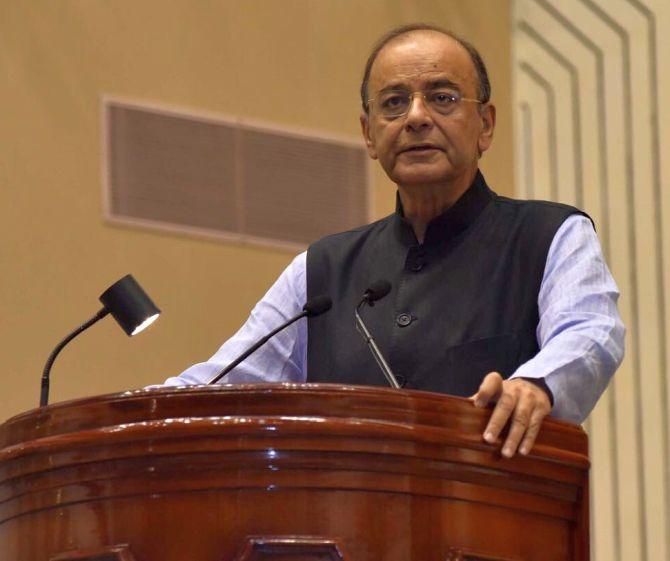 Congress chief Rahul Gandhi tweeted Prime Minister Narendra Modi should immediately order an independent probe into Mallya's "extremely serious allegations" and Jaitley should step down while the investigation is underway.
The claim made by Mallya, facing charges of fraud and money laundering amounting to Rs 9,000 crore, has triggered a political storm, with the Congress saying the government must explain how and why Mallya was allowed to leave India.
Jaitley, however, said he never gave Mallya an appointment after becoming a minister in 2014, but the liquor baron misused his position as an MP to accost him once in Parliament.
Soon after Jaitley's rebuttal, Mallya appeared to tone down the seriousness of his claim, saying it was not a "formal meeting" and he only "happened to meet" the minister, when he told him he was going to London.
Mallya also said he was not "tipped off" by anyone to flee the country.
Delhi Chief Minister Arvind Kejriwal, too, described as "absolutely shocking" the revelation by Mallya and asked, "Why did the finance minister hide this information till now?"
"Absolutely shocking. PM Modi meets Neerav (sic) Modi before he flees the country. FM meets Vijay Mallya before he flees India. What transpired in these meetings? People want to know," Kejriwal said on Twitter.
Former Bharatiya Janata Party leader Yashwant Sinha, a former Union finance minister who has been critical of Jaitley and his handling of the ministry, said the entire BJP leadership, not just the finance minister, must come clean on its ties with Mallya.
Congress leader Abhishek Singhvi said the government was "fully complicit" in the flight of Mallya and Punjab National Bank fraud accused Nirav Modi and Mehul Choksi from India.
"Everybody was complacent and everybody was aware... Whether it was - a casual meeting or a structured meeting. We need proper disclosures, full inquiries on this," he said.
Singhvi said the moot question remains why was no action taken before Mallya fled the country.
He said Mallya's claim is a vindication of the Congress's stand that the government always knew about the fleeing defaulters. He said India wants to know what transpired during the meeting between Mallya and Jaitley.
Communist Party of India-Marxist general secretary Sitaram Yechury said Mallya's escape reconfirmed how Modi government "enables big defaulters to loot public money and scoot".
"The fundamental point is how he got away despite 'lookout notices'?" Yechury tweeted while mocking Prime Minister Narendra Modi by tagging a picture of him performing yoga by resting on a stone and facing the sky.
Rashtriya Janata Dal leader Tejashwi Yadav said the entire NDA government was "hand in glove" with scamsters and absconders.
"They hatched a plot to loot hundreds of thousands of crores. PM and FM must respond on this," Yadav said in a tweet.
Terming Mallya's offer to settle overdue loans of more than Rs 9,000 crore to his now-defunct Kingfisher Airlines as "bluff offers", Jaitley said he did not even take the papers the liquor baron was carrying during that brief encounter.
Mallya, 62, is fighting numerous lawsuits in the UK and back home over fraud and money-laundering allegations as well as an extradition to India.
"I left because I had a scheduled meeting in Geneva. I met the Finance Minister before I left, repeated my offer to settle with the banks. That is the truth," he told reporters outside a London court hearing a case for his extradition.
The verdict in the extradition case will be announced on December 10.
The Congress also said on its official Twitter handle that Mallya met Jaitley "several times" before escaping the country to discuss a settlement plan.
"In spite of this, the BJP government allowed him to flee with thousands of crores debt. Do we need anymore proof that this govt. is in the pocket of crony capitalists."
Congress chief spokesperson Randeep Surjewala said Mallya's revelation shows that the BJP is running "a travel, tour and immigration agency for looters to settle abroad".
"Vijay Mallya left India with the country's money after a farewell from Arun Jaitley. Chowkidaar nahin, Bhagidaar hai (Not a watchman, but a partner)," he tweeted in Hindi.