Bihar Chief Minister Nitish Kumar, whose Janata Dal-United suffered a major slump in seats in the assembly polls on account of the rebellion by Chirag Paswan, on Thursday said it is for the alliance spearhead Bharatiya Janata Party to take a call on whether to retain the Lok Janshakti Party in the National Democratic Alliance.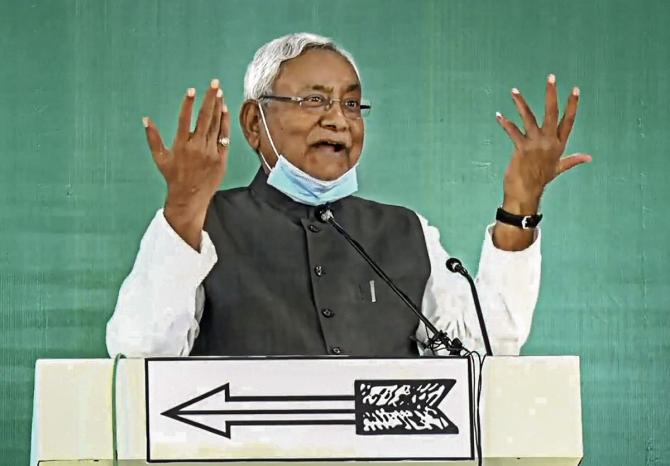 Talking to reporters for the first time after the NDA's victory, Kumar, who is set for yet another term in office, said the date for his swearing-in ceremony will be discussed at an 'informal' meeting of all the four NDA constituents on Friday.
"You make suggestions to this effect," Kumar replied laughingly when asked whether he would ask the BJP to drop the LJP from the NDA at the Centre in the wake of its brinkmanship that scuppered the chances of the JD-U candidates in several seats.
"In any case, it is for the BJP to decide. I have nothing to say in the matter," said Kumar, who is the national president of the JD-U.
The JD-U has returned with a tally of 43 seats, down from 71 in 2015 when he contested assembly polls in alliance with the RJD and the Congress. In contrast, the BJP, which was hitherto a junior alliance partner, won 74 seats.
The development will not put any hurdle in the way of Kumar's return as the chief minister but will likely alter the power equations between the two parties.
However, when asked whether he was apprehensive about being able to function as freely as earlier, Kumar replied in the negative.
"I have always been uncompromising on the three Cs crime, corruption and communalism. There is going to be no change. Not a single riot has taken place since I took over," he said.
"Janata maalik hai (the people are our lord). I have no personal feelings in these matters," he said about the election reverses.
About the possible date of swearing in, he said leaders of all the four NDA constituents will likely meet informally on Friday to discuss the issue.
Kumar said since the tenure of the current assembly ends on November 29 there was time.
He said if the swearing were to take place before November 29, the current assembly will have to be dissolved.
"I will also need to tender my resignation before that for fresh oath-taking," he said.
He declined to comment on allegations by opposition leaders, including Rashtriya Janata Dal's Tejashwi Yadav, that the process of counting of votes was rigged to help the NDA which got a slender majority and won by wafer-thin margins in several seats.
"What do I have to say in such matters," he replied dismissively.
You got it wrong: Nitish on 'last poll' remark
Kumar sought to clarify his recent 'aakhiri chunaav' (last poll) remark which had triggered intense speculations, and claimed that it was an utterance made by him whenever he wrapped up an election campaign, but it was 'misunderstood' this time.
"You guys did not get it right. I say the same thing at the last rally in every election ant bhala to sab bhala (all is well that ends well)," said Kumar when asked about his closing remarks at an election meeting he addressed in Purnea district last week, shortly before campaigning for the final phase of polls came to an end.
"Listen to what I said before and after it and you will understand the context. Had you done so, you would not have misunderstood it," said Kumar whose words 'ye mera aakhiri chunaav hai (this is my last election)' was interpreted by the opposition as an admission of impending
defeat and a ploy to strike a chord with an angry electorate.
However, JD-U leaders had later came out with a clarification that 'aakhiri chunaav' meant 'aakhiri chunaavi sabha (last election meeting)' and Kumar was not talking about retirement.
The 69-year-old chief minister, who has been in power since 2005, appeared unhappy over projections of a strong anti-incumbency during the elections and predictions of a rout of the ruling dispensation.
"I have been selflessly serving people. Still, some people succeeded in creating some confusion. You must have noted the anxieties triggered in public mind following the projections of the exit polls," Kumar said.
Most exit polls had predicted a comfortable victory for the RJD-led Grand Alliance which had led to fears, among those not sympathetic to Lalu Prasad's party, that its return to power could lead to lawlessness.
'Jungle raj', alluding to the alleged lawlessness that prevailed during the 15 years Prasad and his wife Rabri Devi had ruled the state, came to be the recurring theme of the NDA's poll campaign.
Lending weight to the narrative, Prime Minister Narendra Modi, who is being credited for the BJP's stellar performance, had repeatedly warned the people of the state against promises made by Prasad's heir apparent Tejashwi Yadav, whom he never mentioned by name but always referred to as 'jungle raj ke yuvraj'.
Yadav was also the chief ministerial candidate of the RJD-led Grand Alliance.
© Copyright 2021 PTI. All rights reserved. Republication or redistribution of PTI content, including by framing or similar means, is expressly prohibited without the prior written consent.