The bypoll assumes significance as Chief Minister Mehbooba Mufti is seeking her election to the assembly from the constituency.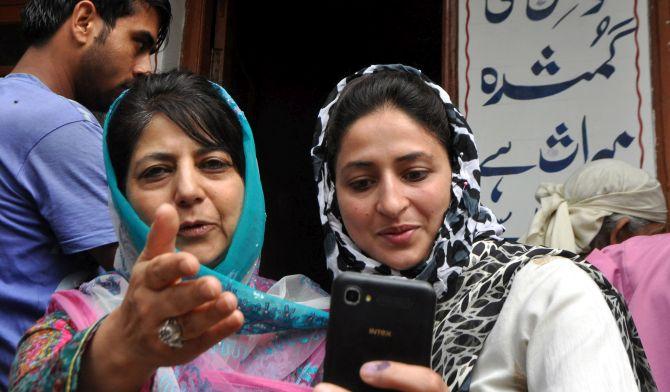 IMAGE: A first-time voter takes selfie with Jammu Kashmir CM Mehbooba Mufti at a polling booth in Anantnag on Wednesday. Photographs: Umar Ganie
The bypoll in South Kashmir's Anantnag constituency on Wednesday recorded a 34 per cent voting turnout.
The bypoll assumes significance as People's Democratic Party president Mehbooba Mufti is seeking her election from the constituency to retain the position of chief minister.
Right now, Mehbooba is a Lok Sabha member and is not a member of either house of the bicameral state legislature.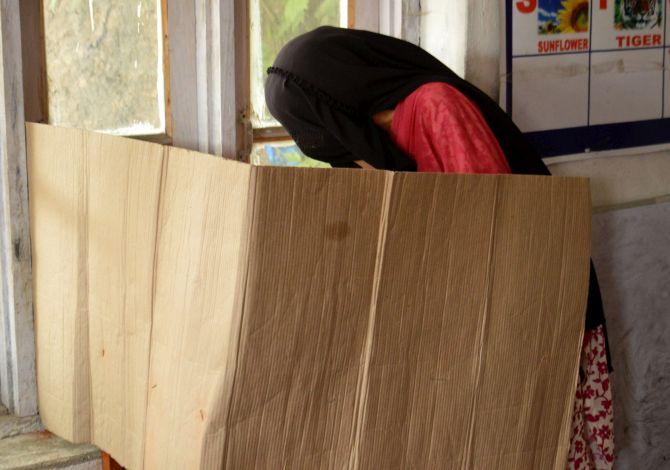 IMAGE: A woman casts her vote at a polling booth.
The state constitution makes it mandatory for her to get elected within six months from the date of her oath-taking. The Anantnag assembly seat fell vacant following the demise of her father and former chief minister Mufti Mohammad Sayeed.
The run up campaign to the election was a low key affair from all the contestants, including those of the National Conference and the Congress. The candidates mainly restricted their campaign to door to door canvassing, shunning big rallies.
IMAGE: An elderly man shows his ink-marked finger after voting.
Even the chief minister followed the same campaign formula, holding two road shows in the constituency to woo the voters.
The month of Ramazan, which began early this month, and incidents of terrorist attacks were also contributory factors to the low key campaign and low turnout on Wednesday.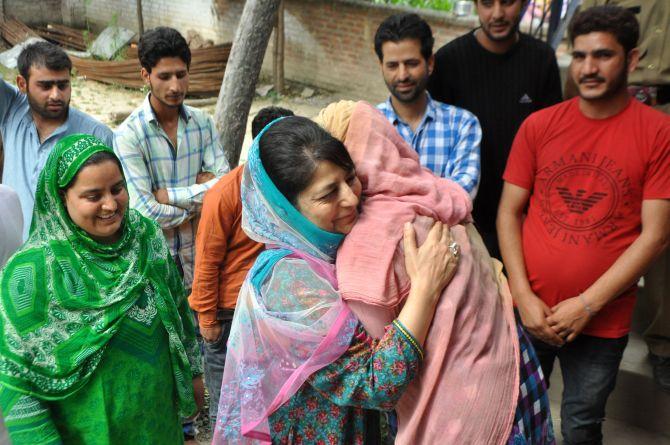 IMAGE: Mehbooba Mufti hugs a voter at a polling booth.
State Chief Electoral Officer Shantmanu said that out of total 84,067 electors -- including 4,229 migrant voters -- a total of 2,8446 cast their votes.
He said that 13 polling booths were also set up at Jammu for migrant voters, one each at Udhampur and Delhi, adding that three additional observers were also deployed for these three locations.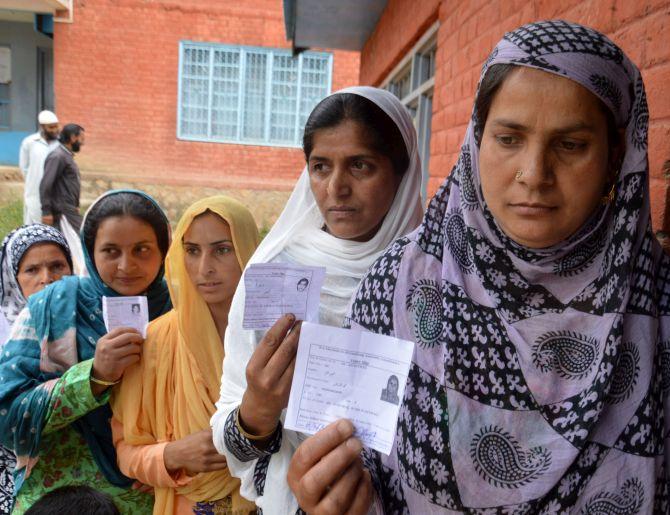 IMAGE: Kashmiri women stand in a queue as they wait to cast their votes.
Shantmanu said that 102 polling booths were setup at 61 designated locations -- which included 52 hypersensitive and 50 sensitive polling stations. He said that eight candidates were in fray for the constituency.
The CEO said the polling was held in a peaceful atmosphere and, so far, no case of violation and untoward incident was reported from any part of the constituency.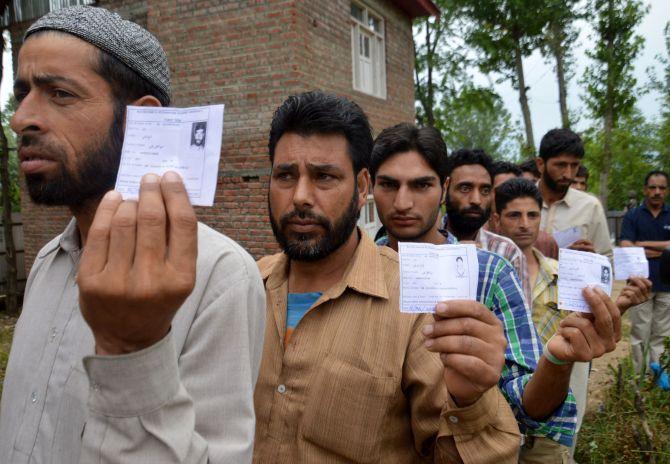 IMAGE: Voters wait in a queue at a polling station to cast their votes.