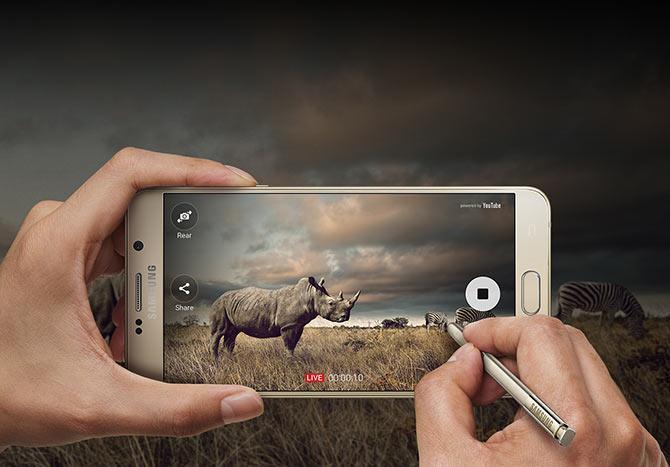 The US Consumer Product Safety Commission has announced a recall of around one million Samsung Galaxy Note 7 smartphones plagued by incidents of batteries bursting into flames.
Wednesday's move by the US safety agency formalises the recall underway in 10 countries after reports of faulty batteries that caused some handsets to explode during charging.
Samsung meanwhile announced replacements for the faulty phones would be available to US customers next week.
In the United States, there have been 92 reports of batteries overheating, including 26 reports of burns and 55 reports of property damage, including fires in cars and a garage, the commission said in a notice.
The US notice affects around one million of the global total of 2.5 million handsets being recalled, which has cast a cloud over the South Korean electronics giant and world's largest smartphone vendor.
Samsung has advised consumers in 10 countries to trade their handsets for temporary replacement phones until it releases an updated flagship device.
But many users have snubbed the offer, choosing to wait until the new phones were available, citing the inconvenience of switching devices for an interim period.
And different regulatory practices in different countries -- as well as varying reactions from carriers -- have caused a degree of customer uncertainty and confusion that is hampering Samsung's efforts to get the recall behind it as quickly and painlessly as possible.
In a half-page ad carried by major South Korean newspapers on Wednesday, Samsung announced a Note 7 software update that will limit battery recharges to 60 per cent of capacity. It would prevent the phones from overheating, and thus exploding, but would effectively mean a downgrade of the high-end device.
Samsung Electronics America announced that replacements for Note 7 smartphones will be available at retail locations in the US by September 21.
"Our collaboration with the CPSC to fast-track a voluntary recall in the US addresses safety concerns by ensuring we reach Note 7 owners quickly to exchange their devices," Samsung America president Tim Baxter said.
"We are asking owners to act now by powering down their Note 7 devices and receive a replacement devices or a refund through our exchange program."
In an effort to steal a march on Apple, the Note 7 was given an early launch in the key US market, making that a priority for the recall effort.
US and Japanese aviation authorities have urged passengers not to turn on or charge the large-screen phones on aircraft, while the US Federal Aviation Administration has told passengers not to stow the device in checked baggage.
© Copyright 2022 PTI. All rights reserved. Republication or redistribution of PTI content, including by framing or similar means, is expressly prohibited without the prior written consent.