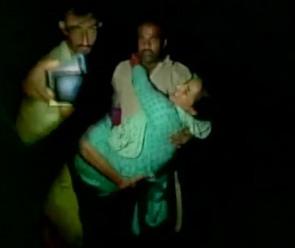 Three persons were killed and 17 others injured when Pakistani Rangers violated the ceasefire twice and heavily shelled civilian areas and border posts along the International Border in R S Pura and Arnia sectors of Jammu district on Friday, drawing retaliation from the Border Security Force.
Condemning the Pakistani shelling, Deputy Chief Minister Nirmal Singh said the international community should declare Pakistan as a "terrorist state" for engineering terror attacks on India and killing civilians in firing and shelling.
Giving details of the shelling, a BSF spokesman said that "Pakistan Rangers resorted to unprovoked firing. Initially small arms were used but later on mortars bombs were shelled on BSF posts and civilian areas in R S Pura and Arnia sectors".
The firing and mortar shelling started around 0145 hours along the IB in Kishanpur, Jora Form, Jugnu Chak, Nawapind, Gharna, Sia, Abdullian and Chandu Chak areas in R S Pura sector and others areas in Arnia sector from 0430 hours, a police officer said.
The Pakistani troops fired mortar bombs and used automatic weapons in the firing. The shelling was so heavy that the shells landed deep inside villages much away from IB, he said.
In the shelling and firing, three civilians were killed, 17 others injured, four of them critically, the officer said adding the injured have been hospitalised.
While two persons died in R S Pura sector, one died in Arnia sector.
Divisional Commissioner, Jammu, Pawan Kotwal said that three persons were killed in the firing.
Scores of animals have been injured and some buildings suffered damages in the firing, Deputy Commissioner, Jammu, Samreendeep Singh said.
BSF troops guarding the border retaliated, resulting in heavy exchanges which were going on when the reports last came in from the area, they said.
"BSF troops deployed in these forward areas gave a befitting reply and fired on the forward areas of Pakistan along the Line of Control, causing damage to them", the officer said.
"No damage and casualty to BSF troops has been reported till last reports came in", he added.
There have been 55 violations of the border ceasefire agreement by Pakistan in August and over 245 ceasefire violations during the year so far.
The deceased were identified as Banso Devi of Sia village, Pawan Kumar of Abdullian village and Kanta Devi.
The border belt looked like a war zone with splinter marks on walls and smell of cordite hanging in the air.
Some villagers were severely injured in the firing and have lost their limbs.
While 24-year old Mohan Lal of Chandu Chak lost his arm in the shelling near his house, an 82-mm mortar shell exploded in the house of Subash Chander at Sai village close to the IB killing his wife Kanta and injuring his two children.
"It was the worst firing and shelling I have ever seen. The mortar bombs were raining from all sides. It was difficult to save the family", Dewan Chand of Addullian village said.
The deputy chief minister, who rushed to GMC Hospital to meet the injured, said, "I condemn this Pakistani firing. They have restarted firing, shelling and killing civilians along the border line because they have been exposed on the international front for supporting terrorism".
"The world should not accept this type of terrorism. India cannot tolerate it. The way Pakistan is resorting to mortar shelling will not be tolerated", he told reporters.
Asserting that forces are giving a befitting reply to Pakistan, the deputy chief minister said, "Time has come when the international community should declare it as a terrorist state as Pakistan is using terrorism as an instrument of international diplomacy".
With inputs from Mukhtar Ahmad.