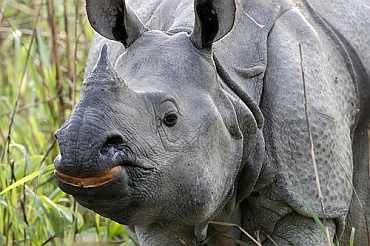 Killings of the rare pachyderm are on the rise in Assam with 15 falling victim to poachers, who hunt them down for their horns, since January in the Kaziranga National Park alone. K Anurag reports
A rhino, left bleeding by poachers who made off with its horn, succumbed to its injuries on Friday taking the number of total pachyderm deaths to five during the last three days in the Kaziranga National Park.
The second wave of floods has left animals vulnerable to poaching as they stray out of Kaziranga in order to escape the floodwaters only to fall prey to poachers.
Following the death of the endangered one-horned rhinos over the past three days, the number of
rhinos killed
by poachers in the Kaziranga National Park alone
since January
has gone up to
15
. 
According to the 2012 census, the Kaziranga National Park has 2,186 rhinos out of a total population of 2,505 in Assam. A total of
524
rhinos have been killed for their horns in that state between
1986 and 2011
.
Following are the numbers of rhinos killed in the last decade: In 2011, the casualties were nine and in 2010, seven, 14 in 2009, 12 in 2008, 21 in 2007, nine in 2006, 12 in 2005, five in 2004, six in 2003, five in 2002, nine in 2001 and 14 in 2000.
In 1999, 17 rhinos were killed, 23 in 1998, 26 in 1997, 42 in 1996 and 39 in 1995. The figures for the years 1993 and 1994 were not available.
The figures of rhino deaths in late 1980s are alarming. Forty-four rhinos were killed in 1989, 24 in 1988, 23 in 1987 and 45 in 1986.   
The unprecedented aggression exhibited by poachers in killing precious one-horned rhinos in Kaziranga National Park area defying the much-vaunted protection measures has raised apprehension about involvement of extremist elements in the inter-state
poachers network.
Earlier, poachers used to shoot down rhinos in interior areas of the park and the cut off their horns.
However, what has happened during the last few days around the flood-affected Kaziranga Park was unprecedented -- poachers sawing off horns of rhinos even when they were alive and leaving them bleeding to death.
The incidents have exposed the lack of protection measures taken by authorities and the poor administration to safeguard flood-hit animals in the national park, which is a World Heritage site.     
The recent killings have raised doubts about the involvement of militants from the neighbouring Karbi Anglong hills, a senior forest official said.
The incidents of poaching have also exposed the lack of coordination between the park authorities and the locals. As the park authority has very poor rapport with villagers, it has become difficult to gather actionable intelligence on the movement of poachers in the area.

The brutal killings have prompted an alarmed Assam government to demand a Central Bureau of Investigation inquiry into the incidents. Terming the killings as "shocking", Union Environment Minister Jayanthi Natarajan ordered a probe by a team of Wildlife Crime Control Bureau officials and has sought a report within a week.

Forest Minister Rakibul Hussain has said that army personnel would be deployed in the fringe areas of the park to prevent poachers from escaping after committing the crime.

He said, all measures have been taken to protect the rhinos but poachers were taking advantage of the flood, which had submerged 80 per cent of the park. "We have taken steps to equip forest department personnel with sophisticated weapons and more forest guards will be deployed soon to deal with the situation," he said.

Image: The endangered one-horned rhino is seen in Assam's Kaziranga National Park