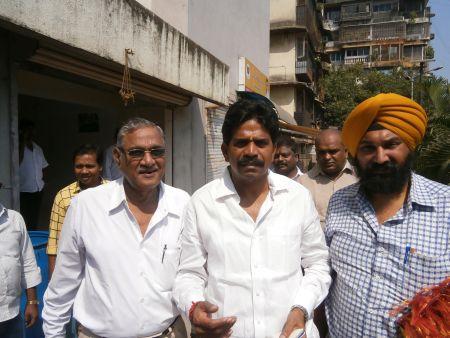 'I didn't get the ticket because I am a Tamil and this is a Tamil area. I work for all people and that is why the majority voted for me.'
A Ganesh Nadar/Rediff.com meets 'Captain' Tamil Selvam, MLA.
The Bharatiya Janata Party office in Antop Hill in north-central Mumbai wears a festive look. The newly-elected MLA arrives in his car with his secretary.
People gather around speak Hindi, Marathi and a few South Indian languages. Garlands, bouquets and sweets are distributed. People line up to take photographs with the new MLA. 'Captain' Tamil Selvam, the MLA, is originally from Tamil Nadu.
Amazing in a city which saw a Shiv Sena-led anti-South Indian movement in the late 1960s and 1970s when south Indians were often beaten up in the streets.
Today dhoti-clad Tamils are a common sight in Mumbai suburbs like Sion, Koliwada, Matunga, Chembur and Dharavi.
'Captain' Tamil Selvam hails from the Pudukottai district in Tamil Nadu. His title does not come from having served in the army or in the merchant navy. "I have been president of so many organisations that people started calling me captain," he says.
Selvam was elected to the Maharashtra assembly from the Sion Koliwada constituency. He has lived in Mumbai for 33 years and has been a member of the BJP for 14 years. This is his third election. He lost his first municipal election, won the next time and became a corporator.
His family in Tamil Nadu are farmers; he did a year of pre-university in Tamil Nadu and then traveled to Mumbai to make his life. Today, he is a railway contractor who does repair jobs for the railways in the city.
"I got a ticket to contest because the party likes the service I do and I won because of the same service," he says.
"This morning I had gone near the IMAX theatre in Wadala (north-central Mumbai). I got a complaint that there was a lot of garbage on the road. I called the BMC (BrihanMumbai Municipal Corporation) and got it removed."
"I went there personally to make sure the BMC trucks came," he adds. "I waited till they started work before I came here. I did not get the ticket because I am a Tamil and this is a Tamil area. The Tamil vote here is only about 7 per cent. I work for all people and that is why the majority voted for me."
"I have a list of things that I need to do for my constituency. We need a hospital here. We need more schools and a college. I have enough work for the next five years so I started this morning."
'Captain' is 54 years old, but looks much younger. He exercises regularly and proudly declares. "I am a former power lifter." He has political power now and looks like he is ready to use it.
Image: Captain Tamil Selvam, centre, in his constituency. Photograph: A Ganesh Nadar/Rediff.com