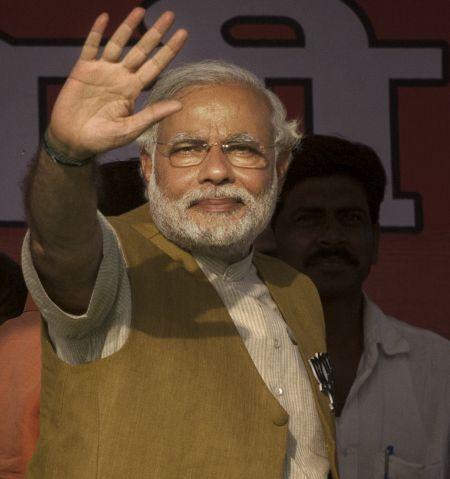 Remnants of the Khalistan movement in Vancouver may stage a protest against Prime Minister Modi, reports Sheela Bhatt/Rediff.com
Prime Minister Narendra Modi's three-nation tour of France, Germany and Canada starting April 9 is likely to be less about international politics and more about economics.
In Canada though his visit will have a heavy dose of Punjabi politics. At Canadian Prime Minister Stephen Harper's request, Modi revised his original itinerary that only had the capital Ottawa and Toronto, and added Vancouver to it.
Vancouver is politically important for Harper's Conservative Party, for it is here that Indians have migrated in large numbers and prospered in recent decades. Harper and Modi will attend a joint event in the city.
After New York's Madison Square Garden event last September, leaders of the Western world have been impressed by Modi's hold over the Indian Diaspora.
It is interesting that Modi will visit Vancouver, the seaport city that once was the hotbed of the Khalistan movement. The Punjab assembly election is not far away; Sikhs in Canada fund candidates in Punjab at all levels.
Remnants of the Khalistan movement may stage a protest outside the community event to honour Modi. Reports with the government suggest that three meetings to discuss the action plan during Modi's visit have already taken place in the Vancouver area among Sikhs who once supported the idea of Khalistan.
Local event managers for Modi's visit have played their cards well and taken both Sikhs and Hindus into confidence. The community event will be jointly hosted by the Hindu Sikh Forum of Canada and the Vedik Hindu Cultural Society which manages the Laxmi Narayan Mandir in Surrey. Modi will visit a gurdwara and temple in Vancouver.
In Toronto and Vancouver there is a festive mood among the Diaspora and Facebook pages created for the event are full of praise for Modi. The Vancouver event is on April 16 at 5 pm, but registration, which was free, has now closed as the event is completely sold out.
Around 5,000-plus people will attend the event. The Toronto event is bigger, with more than 10,000 people gathering to hear Modi.
The New York-based Sikhs for Justice has announced a protest against Modi's possible visit to the Humber Bay Park memorial in Toronto to pay tribute to victims of the June 23, 1985 Air India Kanishka bombing that killed all 329 people on board.
In France, Modi's ongoing rendezvous with NRIs will be unique. The community event in Paris will see some 3,000 NRIs, and Modi's address will be telecast live in the territories of French Reunion and Guadeloupe whose Persons of Indian Origin speak French, but have been not getting enough attention at the Pravasi Bharatiya Divas and other Indian events since they don't speak any Indian language or English.
In Reunion, some 300,000 Indian immigrants are French citizens while Guadeloupe has around 100,000 PIO living there for generations.
Modi is also likely to visit the Airbus headquarters at Toulouse.
The prime minister will also pay homage at the Neuve-Chapelle Indian memorial for the 4,742 Indian soldiers who died in World War I fighting for the British army.
In Germany, on April 12, Modi and Chancellor Angela Merkel will inaugurate the Hanover Fair where India is the partner country. The next day he will participate in a small gathering of PIO at the Indian pavilion.
Image: Prime Minister Narendra Modi. Photograph: Kevin Frayer/Getty Images