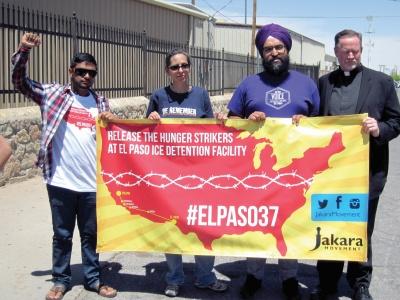 Activists and rights groups set out in a caravan called 'El Paso 37' from Fresno, California to El Paso, Texas, April 26, to express solidarity with 37 Punjabi migrants who are on a hunger strike at the El Paso federal immigration detention center.
Most of the detainees -- who entered the United States illegally -- say they escaped from India to save their lives and are seeking asylum.
"They came to the US seeking safety and freedom, instead, they have languished for nearly a year at the El Paso Immigration and Customs Enforcement Processing Center," Deep Singh, a member of Fresno-based Jaraka Movement, told India Abroad.
"We are in touch with some of their families and some of the volunteers are either related or are from the same village in Punjab as the detainees," he added.
He added that many detainees saw America as a land of equal opportunities and some alleged the Punjab police had harassed them, so they had to flee their homes.
"We believe the ICE needs to be held accountable and the due process should be followed in a timely manner," Tanzila Ahmed of the Asian Americans Advancing Justice, Los Angeles, said.
"I think our efforts have made a difference because soon after our petition, one of the detainees was out on parole and proceedings are on for two more to get parole," she said.
Cayden Mak, of 18MillionRising added, "I think it also relates to a bigger story around immigration and incarceration in the US. The ICE has an incredible amount of discretion here in terms of how long and for what reasons it detains people. While these detainees are obviously not US citizens, their rights are being infringed through a policy of indefinite detention and intimidation. This is both a civil and human right issue."
Amardeep Singh, program director and co-founder, Sikh Coalition, clarified that while the organisation did not normally address matters involving immigration laws, "the concerns of the detainees, as articulated by an attorney representing some of them have been passed on directly to DHS, ICE, and the White House."
"The Sikh Coalition is following up regularly with these agencies to determine whether the federal government can provide their requested relief," he added. California-based North American Punjabi Association -- the first to highlight the issue of the detainees in April -- said it was working to secure the detainees' release.
"We are working with United States Representative Mike Honda to seek the release of the detainees on parole or bond as soon as possible, especially those who are there for over six months," said Satnam Singh Chahal, executive director, NAPA.