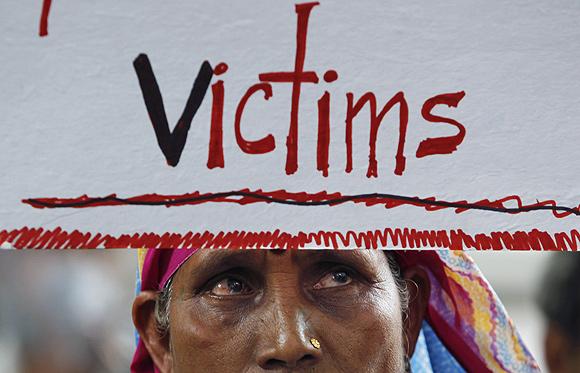 Laying emphasis on striking a balance between environment and development on the 30th anniversary of Bhopal Gas tragedy, Madhya Pradesh Chief Minister Shivraj Singh Chouhan on Wednesday said all measures should be taken to avert a repeat of such an industrial disaster.
"Development at what cost and for whom, people should think over it as today is the day to ponder on this issue. We must realise that there is a need to strike a balance between environment and development to avoid recurrence of such a tragedy," Chouhan said.
The chief minister said it was difficult to imagine what the victims had gone through on that fateful night (the intervening night of December 2-3, 1984). The poisonous gas had affected large number of people and ruined their lives.
"I pay my tributes to all of them who suffered because of the tragedy," Chouhan said.
The chief minister informed that the state government has already given a compensation of Rs 3,840 crore to the 5.74 lakh affected persons and has proposed to give an additional Rs 675 crore to them.
Earlier, an all-religion prayer was held at the Barkatullah Bhawan to pay homage to victims of the tragedy.
The NGOs working for the rights of the affected persons also took out protest rallies in old Bhopal area where the defunct Union Carbide factory is situated and burnt effigies.
They demanded adequate compensation, proper medical treatment and severe punishment to those responsible for the tragedy.
Meanwhile, at the rally organised for the 30th anniversary of Union Carbide disaster here, five organisations of survivors' made an appeal to people all over the world to put pressure on responsible parties to end the suffering in the fourth decade.
They asked supporters to help make Union Carbide, USA and its 100 per cent owner Dow Chemical acknowledge their roles in the continuing human suffering in Bhopal and make amends so that a realistic goal of ending the disaster by 2024 can be achieved.
The organisations alleged that the Governments of USA and India were directly responsible for neglecting the ongoing tragedy caused by the world's worst industrial disaster.
They charged both the governments of protecting corporate interests over the lives and health of common man and sought reflection and course-correction for ending the disaster.
In a letter to the US President Obama, the survivors' organisations asked that his government "acknowledge the central role played by the United States government in the creation of the disaster in Bhopal and in the denial of justice to the victims."
A separtate meeting to pay respects to the victims of gas tragedy was also organised at Bhopal Gas Peedit Mahila Udyog Sangthan headed by its Convenor, Abdul Jabbar at ShahjehaniPark.