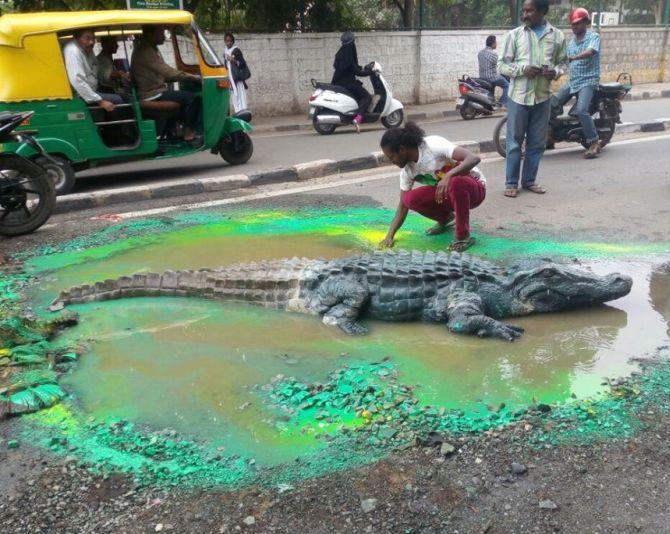 What would you do if you found a crocodile in the midst of heavy traffic? Scream, most naturally. And in Bengaluru, that's exactly what happened when they found the reptile emerging from a pothole.
But, relax… Startled commuters at Sulthanpalya Main Road were in for a pleasant surprise when they found out that the crocodile was not real and an art installation by local artist Baadal Nanjundaswamy.
The life-sized croc made by Nanjundaswamy, who wanted to protest a giant pothole that has not been fixed in the northern part of the city for days. On Thursday, he painted the area around his crocodile to look like a pond.
"Everyone has the potential to express themselves in his or her own way. This is my way of communicating a grievance," the artist told The Indian Express.
The 36-year old artist is not new to these forms of protest. He had earlier created a mouth of Yamraj in an open manhole to show that it was a death trap. The civic authorities reportedly fixed it within a day.
Image: Baadal Nanjundaswamy with his life-sized crocodile on Sulthanpalya Main Road, Bengaluru. Photograph: Baadal Nanjundaswamy/Facebook