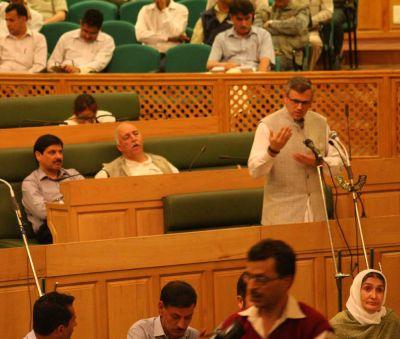 Jammu and Kashmir Chief Minister Omar Abdullah on Tuesday announced a judicial probe into the September 7 Shopian incident in which four youth were allegedly killed in paramilitary Central Reserve Police Force firing.
The incident had coincided with Zubin Mehta's concert at famed Shalimar garden in Srinagar which was attended by the who's who of the country and international deligates.
Replying to the discussion of the adjournment motion moved by opposition Peoples Democratic Party other parties, the chief minister said that the various statements pertaining to the Shopian incident issued by the police and other security agencies have created a situation where judicial probe is necessitated.
Abdullah said that he will ask the law department to issue necessary notification in this regard and make the probe by a retired high court judge in a time-bound matter. He said he wants people should know the veracity of the event in which five people lost their lives.
Describing Shopian, Kishtwar, Gool, Hiranagar and Samba incidents of different nature, Abdullah said that the loss of human lives is most disturbing and painful for any chief minister. He said whenever any such incident takes place he is 'engulfed with pain'.
"I assure the people of Shopian that if in the judicial probe security forces were found guilty of innocent civilian killings, they would be booked under the law for handing over severe punishment", he said and elaborated that the impression being given that security forces have free hand to commit civil killings is totally wrong.
He referred to the arrest of a Border Security Force officer in the killing of a youth and said that his case is in the court of law for final judgment. He also mentioned various enquiries constituted by his government in various cases involving civilian killings.
The chief minister also mentioned Pathribal incident and said that the final verdict in the case will be given by the Supreme Court.
Abdullah said it's the most serious thing when people lose faith in the system. He asked all political parties and legislators to be united in strengthening the institutions and said that the verdicts by courts in such cases where public sentiments are involved need to be put on fast track like that of the Delhi gang rape case.
he chief minister said that while the killings of innocent people are condemnable by all standards, the sacrifices of police and security personnel to safeguard the state and the lives of the people are highly commendable and "their martyrdom should be condoled in the same manner as the killing of civilians".
The chief minister informed the House that 57 police and security personnel laid down their lives in the militancy related incidents this year.
"We should also remember them and express our sympathy and solidarity with their families," he added.
Image: Omar Abdullah addressing the Jammu and Kashmir assembly on Tuesday
Photograph: Umar Ganie