Opposition National Conference's working president Omar Abdullah on Sunday expressed disappointment and grief over incidents of schools being burnt in various parts of Kashmir saying this was an "abhorrent ploy to destroy the future of the children" and blamed the state government as well as separatists for the situation.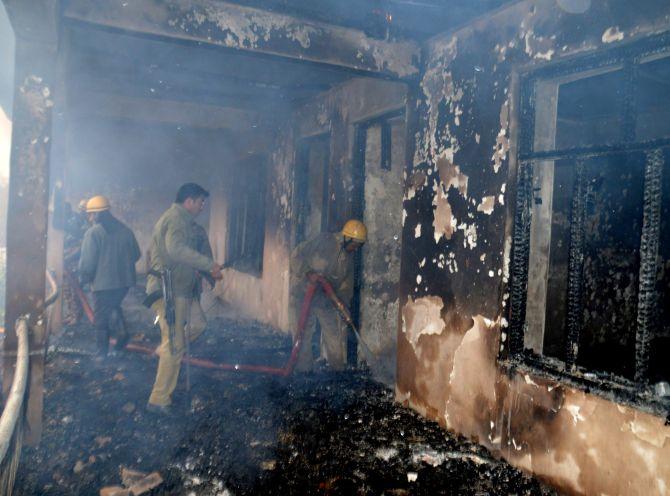 "Our schools hold the key to the self-reliance, dignity and empowerment of our future generation. An assault on our schools is an assault on our children, their future and their dreams.
"These are clear, unambiguous attempts to rob our children of education and intellectual growth and there can be no doubt that these elements who attack our schools are the enemies of our children and the enemies of enlightenment," Omar said in a statement.
The former Jammu and Kashmir chief minister said the administration is responsible for protecting the education infrastructure in the state and it should take the "sternest possible action" against those found guilty of such incidents of arson.
Omar also hit out at the separatist Hurriyat Conference saying its leadership should realise the "cost of its reluctance and delay" to condemn such behaviour unequivocally.
He blamed both the administration and the Hurriyat leadership for "failing to speak up and act in time" to prevent such incidents.
"You cannot aspire for the moral lecterns of self-righteous leadership without having the courage of your conviction to call a spade a spade. Persecuting your own people cannot be portrayed or disguised as alleged resistance based on a political cause.
"Robbing our children of their classrooms and of the prospects of academic growth is the greatest act of tyranny and oppression," the NC leader said.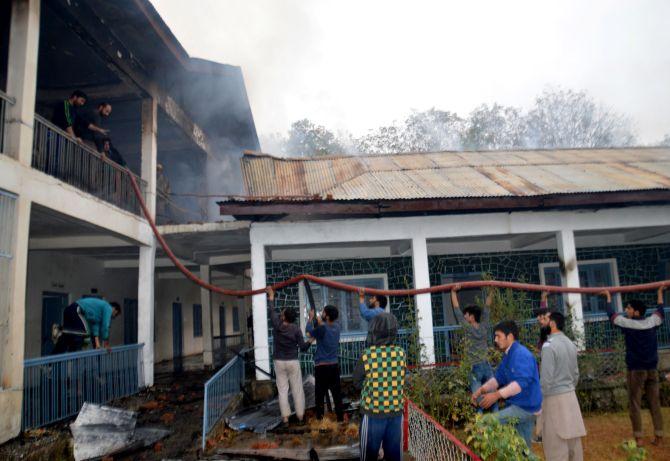 Omar expressed hope that the state government will "get its act together" and rise to the occasion to protect the schools.
"Every new, tragic and saddening news of a gutted school is a verdict on the incompetence and inaction of the state government. We also hope that Hurriyat leaders gather the courage to say the right thing at the right time and do not allow the street to dictate their agenda and their sense of right and wrong.
"Schools are centres of learning and enlightenment and an attack on our schools is an attack on our collective dignity and self-respect and will not be tolerated at any cost," Omar said.
On Sunday, two schools, including a Jawahar Navodya Vidyalaya, were damaged in mysterious fire incidents in south Kashmir's Anantnag district, police said.
Fire broke out in Government Higher Secondary School building at Kabamarg in Anantnag district on Sunday afternoon, a police official said.
He said fire tenders were rushed to put out the fire as locals also assisted in the firefighting job.
Photographs: Umar Ganie/Rediff.com