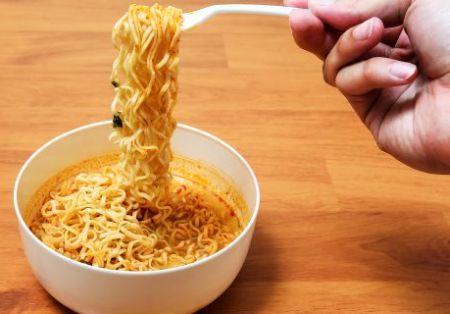 Is India's most popular instant noodles banned in Uttar Pradesh?
According to a PTI report, Nestle India has been asked to withdraw a batch of popular Maggi noodles from the market after it was found to contain high level of lead.
A high lead content was reportedly found during routine tests conducted in Kolkata on two dozen packets of the instant noodles. Packets belonging to this batch have been recalled from shops and additional batches of Maggi are now being sent for testing.
Confirming the order asking Nestle to recall a batch of Maggi noodles, UP's Additional Commissioner Ram Arya Maurya said, "Whatever action we had to take we have taken. I don't wish to say anything more."
Tests of the said batch had also reportedly found high levels of added monosodium glutamate (MSG), a taste enhancer, in the noodles.
However, a Times of India report claims that the Food Safety and Standards Authority of India has denied ordering recall of any batch of Maggi noodles.
The central food safety regulator said that it was waiting to examine the initial report from the state enforcement agencies in Uttar Pradesh which found the product containing added monosodium glutamate and lead in excess of the permissible limit. "We have not yet ordered any recall. We are waiting to see the report from UP and may order countrywide sampling after that," a senior official in the FSSAI said.
The Nestle spokesperson also confirmed that the company has not received any communication from the regulator seeking countrywide recall
In fact, sources close to the company said Nestle has contested the findings and that the subsequent batches have passed all the tests. They also contested the conclusion based on testing of just "one pack" of Maggi noodles.
Nestle India has clarified that it has "strict safety and quality controls" in place for all raw materials used to make Maggi noodles. "We do not add MSG to Maggi noodles and glutamate, if present, may come from naturally occurring sources. We are surprised with the content supposedly found in the sample as we monitor the lead content regularly," a spokesperson from Nestle said.
Nestle India, a subsidiary of Swiss conglomerate Nestle SA sells instant noodle, ketchups, sauces under the Maggi brand. It has around 60 per cent market share in the instant noodle category.
Twitter, meanwhile, saw an outpour from Maggie lovers.

@DebasreePurkaya tweets: Gosh! #Maggie was only hope of a lazy evening.
@cynic_wall: RIP Maggie noodles

@Lambar_Daar: Ban on maggie noodles is tearing my family apart.

@MostlyShalin: You don't care about the lead I consume every day in the traffic, but Maggie noodles is killing me? #getoutofhere

And then there are always some who are optimistic.
@radharaju18: The Slimy Maggie noodles will slip thru the Indian laws..:D
@mehreenrana: When all else fails, Maggie Noodles is the obvious winner.