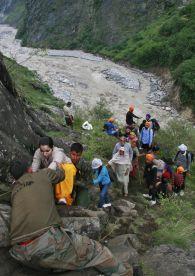 There are wild rumours not just in Uttarakhand but all over the country about the actual damage done by excessive rains, cloud bursts and landslides in the state.
Rediff.com has in its possession the daily report filed by the Uttarakhand disaster management centre to Chief Minister Vijay Bahuguna's office. The reports say that so far 72 people have died, 58 injured have been sent to hospitals and 38 families have registered the complaints of missing relatives.
1165 animals have also died, so far. Since fear has gripped the people in the state, the government will take time to conform actual deaths.
The two reports include "official" information at 10.30 am on June 19 and 5 pm on June 20. These reports were sent to CM Bahuguna and other important state officials.
It gives the vivid account of trapped tourists and also narrates the rescue work done by government which is, obviously, too short of expectations.
Uttarakhand has 13 districts, but the major tragedy has occurred in the Gadhwal region. The killer monsoon struck on morning of June 17.
The gigantic task, as of today, is to rescue 50,422 pilgrims who are trapped all over the different shrines situated on the mountains. According to the latest figures (5 pm on 20 June) 22,429 pilgrims are trapped in Rudraprayag, 18,162 in Chamauli and 9,831pilgrims in Uttarkashi are waiting for help from the government to rescue them to safer places.
In last 36 hours some 12,368 pilgrims have been shifted to safer places.
According to June 19 morning report total 62,790 pilgrims were trapped in Rudraprayag, Tehri, Chamauli and Uttarkashi.
However, the most important thing to know for non-governmental rescue workers is that Kedarnath national highway of Rambada, Bhidi, Tilwada to Sirubgadh is NOT yet open.
The rescue operation between Sitapur to Guptkashi is on due to opening of the road.
Also, Joshimath-Karnaprayag, Shrinagar, Devprayag and Rishikesh road is open to ply vehicles. But, the Badrinath-Pandukeshwar road is totally closed.
Click here to read the June 19 official reports
Click here to read the June 20 official reports
Image: Soldiers rescue stranded people after heavy rains in Uttarakhand
Photograph: Reuters