Around 90 trains were cancelled, mostly in the Southern and South Eastern Railway Zones, while 46 were diverted and 11 short-terminated following the three-train accident in Odisha's Balasore on Friday in which 288 people were killed.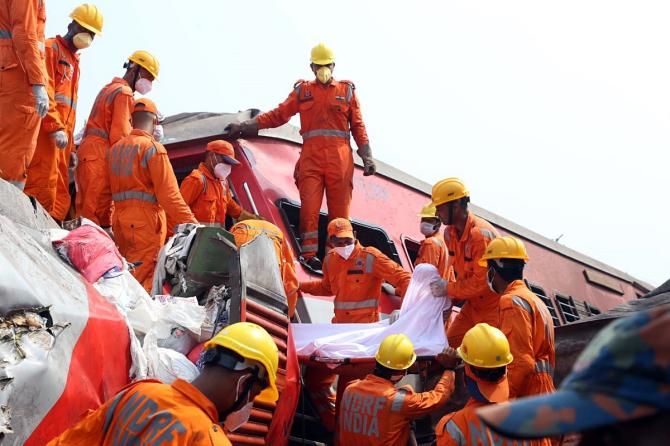 According to the latest data released by the two zones, the South Eastern Railway cancelled trains such as the Chennai-Howrah Mail, the Darbhanga-Kanniyakumari Express and the Kamakhya-LTT Express journey commencing on June 3.
It has also cancelled the Patna-Puri Special train with journey commencing on June 4.
The Southern Railway cancelled trains such as the Mangalore-Santragachi Vivek Superfast Express leaving Mangalore at 23.00 hours on June 3, Dr MGR Chennai Central-Shalimar Coromandel Express leaving Chennai at 07.00 hrs on June 4, Dr MGR Chennai Central-Santragachi AC Superfast train leaving Chennai at 08.10 hrs on June 4.
It also cancelled Rangapara North-Erode Superfast Special leaving Rangapara North at 05.15 hrs on June 3, the Guwahati-Sri M.Visveswaraya Bengaluru Tri Weekly Superfast Express leaving Guwahati at 06.20 hrs on June 6, Kamakhya-Sir M.Visveswaraya Bengaluru AC Superfast Express leaving Kamakhya at 14.00 hrs on June 7.
The railways has short-terminated 11 trains due to the accident.
The South Eastern Railway ran one MEMU special train from Howrah to Balasore at 16.00 hrs on June 3 to carry the relatives of affected passengers due to the derailment at Bahanaga Bazar.
The Southern Railway is also running a special train arranged for family members of affected passengers from Chennai to Bhadrak.
Three trains -- Shalimar-Chennai Central Coromandel Express, Bengaluru-Howrah Superfast Express and a goods train -- were involved in the accident, one of the worst railway tragedies of the country.
Citing reports till Saturday evening, officials said 288 people were killed in the accident.
As many as 1,175 people were admitted at various hospitals, including private ones, out of which 793 have been released and 382 were undergoing treatment, Odisha government officials said at around 8 PM Saturday.
All except two patients are stable, they said.
The two express trains were carrying nearly 2,000 people.
© Copyright 2023 PTI. All rights reserved. Republication or redistribution of PTI content, including by framing or similar means, is expressly prohibited without the prior written consent.