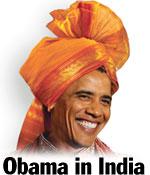 First, United States President Barack Obama was protected from coconuts falling off trees, and now special efforts have been made to keep stray dogs and monkeys at bay.
Before Obama's visit to Mani Bhavan in south Mumbai, branches of trees in the surrounding areas were trimmed and coconuts were removed. And New Delhi is not far behind in ensuring the American president's safety.       
Besides the high-level security apparatus in place for Obama's visit to the national capital on Sunday, dog and monkey catchers are also being roped in to avert any 'animal invasion' on his route. Security officials have sought the help of trained animal handlers from civic agencies so that no untoward situation is created during
Obama's tour to New Delhi.
Special focus is being given to the Central Ridge forests opposite Indian Tobacco Company's Maurya Sheraton, which will host the American president during his stay in the capital, and Rajghat, where Obama will visit to pay respects at the memorial of Mahatma Gandhi. Monkeys are seen in large numbers at both the places.
The Delhi police sought the assistance of the Municipal Corporation of Delhi in keeping monkeys and dogs at bay by providing trained personnel. "Our help had been sought in catching monkeys and dogs and we have done the needful. Personnel have been deployed wherever they were needed and the areas have been sanitised," a senior MCD official said adding that special focus was given to Rajghat area. The civic official, however, refused to divulge the number of personnel being deployed or the animals caught.