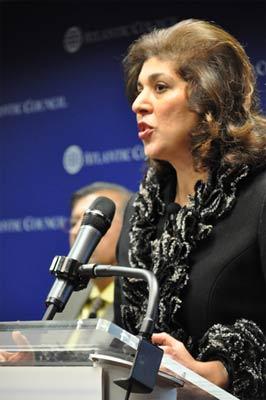 President Barack Obama's special representative to Muslim communities worldwide tells rediff.com's Aziz Haniffa about her trip to India.
Srinagar-born Farah Pandith, President Barack Obama's special representative to Muslim communities worldwide, recently made her first trip to India after her high-level appointment. She had "a great trip," she told rediff.com, and "was very humbled to be able to go back."
Speaking on the sidelines of a discussion at the Atlantic Council, a Washingon, DC think-tank, about her recent travels in carrying out the president's agenda vis-a-vis outreach to Muslim communities, particularly at the grass-roots level, she said that in India, "I was very warmly received and it meant a lot to me."
Pandith, who has ambassadorial status, visited both Mumbai and New Delhi. She noted that "in both places, I met predominantly with civil society. I did not have a lot of meetings with government officials. I met with women's groups, I met with activists, I met with bloggers."
"I met with entrepreneurs and with a wide range of folks," she said. "I visited schools, I visited religious schools. I spoke at universities. I just sort of did the gamut, and it was terrific."
Pandith acknowledged that at these events she was peppered with "a lot of really hard questions about, sort of, the future of young people, just generally," and said that she "found the Indian youth to be really connected, in terms of responding to the secretary's (of state Hillary Clinton's) vision of 21st century statecraft (that Clinton had articulated during her visit to India last July during which she had spoken of taking US-India relations to the next level -- US-India 3.0 she had called it)."
She said the youth she had met with in India "were really thrilled that she (Clinton) was using New Media tools to connect. Many of them have connected with me on Facebook, on Twitter."
Pandith said the Indian youth, college students, grass-roots activists and young professionals she had interacted with "are thrilled about the fact that they have a voice n this conversation."
She said "the response that I heard from many of the young people was that we need to do a better job of understanding young people's issues, whether they are issues of identity, which is really a singularly important theme that I've heard across the world -- 'How do you navigate being Muslim in 2010?' 'What does it mean to be both Muslim and modern?' 'What is the difference between culture and religion?' Young people are asking these questions in a way that the generation before it didn't ask."
Pandith said that young Muslims she met with in both Mumbai and Delhi "were actually talking about these issues and I was very pleased to have that conversation."
She spoke of how "a lot of them had really great ideas about how they want to activate youth and make a difference," and pointed out that "I met a group called Mesco in Mumbai that is taking kids out of the slums and giving them an opportunity to be educated in new ways. And these kids are giving back to their communities and so, there's sort of play-it-forward kind of aspect to it."
Pandith said "where can we, as the US government, help, is to actually take those organic ideas and see where we can actually help lift them up. In many cases, I connected those ideas with either NGOs (non governmental organisations) in other parts of the world, or American NGOs that are working on very similar projects, so that intellectually they can actually polish it and make the idea better, learn from past mistakes, learn from each other."
"It was a great trip, and I very, very much enjoyed it," she reiterated.
Pandith said her portfolio is not simply to engage and outreach to Muslim communities in Muslim majority countries. "First of all, it's very important to remember that we have to look at Muslims not as a bloc, but that we are looking at the nuances of what happening with the communities around the world."
"And, as you talk about Muslim majority countries," she noted, "very significant countries exist but populations that are really large also occur in non-majority states. India is a perfect example of that. You have 160 million Muslims in India. They are as minorities. So you have to engage there also."
Photograph courtesy: The Atlantic Council