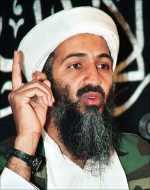 United States President Barack Obama wanted to try Osama bin Laden in a federal court if the United States Navy SEALs had managed to capture the Al Qaeda chief from his hideout in Pakistan, a new book has claimed.
Obama said he wanted to put bin Laden on trial in a US courtroom if the terror mastermind survived last year's daring raid on his Abbottabad compound, Mark Bowden, has claimed in his book on the bin Laden raid,
The Finish
.
Obama said that he anticipated the same resistance that forced him to abandon a New York City trial for 9/11 mastermind Khalid Sheikh Mohammed and four co-conspirators, the
New Daily News
reported.
"But frankly, my belief was if we had captured him, that I would be in a pretty strong position, politically, here, to argue that displaying due process and rule of law would be our best weapon against the Al Qaeda, in preventing him from appearing as a martyr," Obama told author Mark Bowden, whose book will hit the stores later this month and is excerpted in the new
Vanity Fair
magazine.
"We worked through the legal and political issues that would have been involved," Obama said.
Mark Bowden is an American writer who authored the popular book
Black Hawk Down: A Story of Modern War
.
The world's most wanted man had spent a decade drifting around Pakistan with multiple wives and children when Navy SEAL Team 6 descended into his walled compound in Abbottabad on May 2 and ended his life on the run.
Retired SEAL Matt Bissonnette, who claimed in his controversial tell-all No Easy Day to be one of the commandos who shot bin Laden dead, wrote that the team's orders were in fact "kill or capture."
When bin Laden peeked his head from his home's top-floor bedroom a SEAL shot him in the head and teammates closed in to finish him off, Bissonnette wrote.
Obama and his inner circle maintain they gave 50-50 odds that the tall man they called "The Pacer," seen walking regularly around the compound, was their target.
Assistant Central Intelligence Agency Director Michael Morrell corroborated the 50-50 scenario. "If we had a human source who had told us directly that bin Laden was living in that compound, I still wouldn't be above 60 percent. And I'm telling you, the case for WMD wasn't just stronger-it was much stronger," Morrell told Bowden.
It was a reference to intelligence, that later proved faulty, claiming that Iraq had weapons of mass destruction before the US invasion in 2002.
Navy SEAL and Joint Special Operations Command boss Admiral William McRaven, who ran the mission, told Obama the raid itself would be easier than flying his team in and out, which he warned could get "sporty," Bowden writes.
If he had been tried in federal court, bin Laden would have faced the death penalty if convicted on charges of killing Americans.
© Copyright 2023 PTI. All rights reserved. Republication or redistribution of PTI content, including by framing or similar means, is expressly prohibited without the prior written consent.