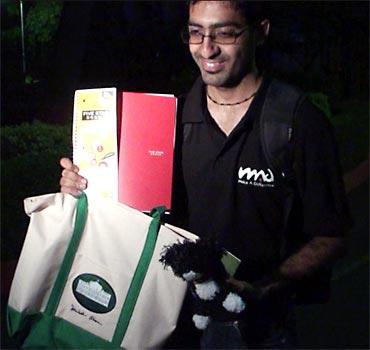 Jithin C Nedumala, 24, who hails from Cochin but did his MBA at IIM Lucknow, is one of the founders of Making A Difference or MAD, an NGO that has taken Mumbai by storm after America's First Lady Michelle Obama decided to meet its volunteers and children at a never-to-be forgotten dance, drum-tambourine and fun evening at the University of Bombay on Saturday.
This youth volunteer network, of 850 college students, assists 2,500 to 2,800 mostly orphaned, poor children across 11 cities to pick up skills in English and computers outside, or rather over and above, their school curriculum. It believes that kids equipped with superior English skills have a 400 per cent better chance of getting a job in India. MAD made a special impact when young Nedumala won the YouthActionNet Global Fellowship, 2010 along with 19 other young volunteer organisations internationally.
While in Washington DC to pick up the award, Nedumala had a chance to visit the US State Department. The YouthActionNet fellowship assists in putting youth networks in touch with the people who matter -- 'big shots' as he puts it -- and hence the State Department visit where Nedumala had a chance meeting with the team from the First Lady's office who were putting together the schedule for Michelle Obama's visit to India.
Magically, that presentation led to having Michelle Obama kicking off her shoes and dancing to a Bollywood hit and hopscotch-ing with his young charges in Mumbai a few months later.
Nedumala talks about the fun-filled evening that MAD spent with the First Lady:
I have great respect for Michelle Obama. She exemplifies what she believes in, which is to reach out a hand to youngsters to help them become leaders. She believes in promoting an environment to (nurture) youth leaders
At MAD we believe in gaining local experience (in leadership) when we say: don't crib, do. That is exactly what she said! Promoting youth leadership is her international agenda. She believes primarily in promoting youth leadership. Youth leaders often lack a platform (and a role towards building an) equitable society. That is basically what MAD does.
Michelle Obama definitely does everything in her capacity to make you feel comfortable when you meet her. You are totally blown by her six-foot-two presence and for a moment you might not be able to talk (she is the tallest lady I have met). But then she extends her hand and she talks to you like a youngster. She really connects. And she asks very intelligent questions that make you feel that she knows what the industry is about, in depth.
I thought she was extremely elegantly dressed for the event. We had actually scrapped the dance sequence which we had planned. Accidentally, the audio got played. But she just enjoyed it. It was spontaneous and not choreographed. At the end she asked the children: "Why don't we dance again?"
And the way she interacted with the children. She hugged each and every child, asked questions about them and made them feel very comfortable.  And she played games with them.
It was perfect.
That was probably how each of the 33 kids, ranging in age from eight to 13, who came from various orphanages across Mumbai, felt. At the end of the evening --  which was also punctuated by some serious moments when Obama stressed the advantages of education and pointed out where it had got her -- they were given a stylish White House bag with a few items of stationery in it  and a fluffy stuffed miniature version of the Obamas' Portuguese water dog, Bo.
Text: Vaihayasi P Daniel | Image: The goody bag given by Michelle Obama