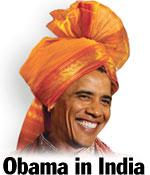 "US President Barack Obama should have visited the world's largest democracy last year itself. India is the future and meetings between the countries should be a continuous process," said Pete Dagher, Obama's campaign manager, who is also a political analyst.
Dagher is only echoing the views of many strategic experts in India, who opine that instead of going overboard with this visit, Obama should have stopped at New Delhi earlier to discuss US-China and US-AfPak relations.
Dagher, who is in India as a part of Obama's support staff ahead of his visit, was speaking at a discussion organised by the Observer Research Foundation in New Delhi.
"In areas like energy, dynamics and businesses, the future truly is India. It is in the best interests of the US as well, that more meetings and strategic understandings exist between the two countries. In fact, I say that the US president should visit India once every year," Dagher said.
Indian diplomatic experts, however, have been cynical about Obama's New Delhi visit, with several cautioning India not to expect much from it.
Former Ambassador Arundhati Ghose, who was at the meeting, told rediff.com, "We should not expect anything iconic from Obama's visit. What we should expect, however, is better cooperation and understanding from the US when it comes to countering terrorism and employment opportunities. While we cannot demand of the US president to say that US will open its doors to Indians for job opportunities, but post this meeting India and US should see eye to eye on free trade. There should also be more clarity and understanding on counter terrorism issues when it comes to US-AfPak relations."
For Indians settled abroad, fast dwindling job opportunities are an area of major concern and they expect it to be addressed during the Obama visit. Dagher, however, was not very hopeful of the president addressing this issue.
"The US economy is not going very well and I don't expect it to get better anytime soon. At this point in time, I don't see the President issuing a statement saying that the US will open its doors for Indians looking to settle abroad," Dagher said.
Strategic expert, Major General (retired) Ramesh Chopra told rediff.com that China is another issue that India expects to be addressed during the visit. "We need the US to tell us that they acknowledge what is happening in China. We also need to know what the US is doing in this direction, because as far as we in Asia are concerned, US is still the biggest power. We need to know about policy changes in US-China relations," Chopra said.
Experts feel that India's voice is never heard when they address concerns about China. To this claim, Dagher said that India needed to assert its influence more. "China never takes no for an answer. When they demand something, they raise complaints about it till the US does something. They complain about the smallest things. Another advantage that China has is their connection with the members of the Congress, which actually is more powerful than the US president when it comes to policies. How many times has India invited members of the US Congress for strategic discussions? China's business community in the US have good relations with the Congress and they exert their influence through this," Dagher said.
During Obama's visit, India is sure to raise the issue of cross-border terrorism and US-AfPak relations. Though President Obama has been outspoken about terrorism within Pakistan with his references to save Pakistan from being a "failed state", the US has done nothing in their approach to Pakistan to backup these statements.
Major General Chopra said, "This time we need to know what the US is doing to address our concerns. Something must be done and said that conveys to India that the US is taking our issues seriously."