Rediff.com's Krishnakumar P quizzes the college student who briefly put President Obama in a spot at Sunday's townhall meeting.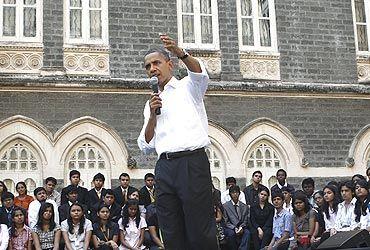 Romit Mehta, a third year economics student at St Xavier's College, where United States President Barack Obama addressed a
townhall meeting
, had no doubts about what he would quiz the president about: The US's Afghanistan policy.
The reason: Romit's father Arun Mehta, a senior Indian Railway officer, has worked in Afghanistan and had a miraculous escape in the February 26 suicide and car bombing at a Kabul complex housing foreign nationals.
"From the moment I knew I would attend the meeting, I had no doubt about what I would ask him if I got a chance," Romit told Rediff.com
"My father has worked in Afghanistan on deputation. And his guesthouse was attacked. Thankfully he was not present there," he added.
On February 26, a foreigners's guesthouse complex in Kabul was the target of a double-terror attack. A suicide explosion and a car bomb killed 16 people, nine of them Indians.
Thankfully, Arun Mehta, who was staying in one of the guesthouses, was in Dubai on his way to Mumbai.
"Though my father loved his experience of working in Afghanistan, it was scary for us," Romit said.
So, when his turn came to ask the US president a question, Romit chose Obama's withdrawal map for Afghanistan and the effect it would have on Afghanistan's future.
The question drew a long pause from President Obama who opened his answer by saying, "I am going to unpack a lot of assumptions that are present in the question."
Even his father did not understand his long question initially, Romit confessed.
"My parents saw the event live on television and were very excited. My father said he noticed that even the president was a little taken aback at the question. Then he said it was really a pertinent question," he said.
Arun Mehta spent 18 months in Afghanistan before the Indian Railways, keeping in mind the security issues, decided not to extend its contract.
"The Afghan people like us Indians a lot and were very friendly to us," Arun Mehta said. "But it was widely believed that it (the terrorism) is all Pakistan's making."
"The general opinion is that they do not want India to have a role in Afghanistan's rebuilding and are targeting the Indian organisations and establishments, using the Haqqani network," Arun Mehta said.
Asked how he felt when his son put the most powerful man on earth in a spot, Mehta said he was merely proud that his son had gotten such a chance.
"I am an engineer. I don't get these kinds of issues. But he is mature enough to choose his question. I am proud of him," he said.
Defending the US policy in Afghanistan, Obama said, "Our presence there will be determined by politics. All countries need to participate in Afghanistan. A stable Afghanistan is possible."
But Romit is not so optimistic.
"If the US backs off and the Taliban comes back again," Romit added, "it will mean that all the developmental efforts of various countries will come to naught."
Image: Obama addresses students at St Xavier's College, Mumbai. Photograph: Jim Young/Reuters.
ALSO SEE: The best coverage of the Obama visit, only on Rediff.com