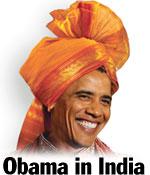 Asking the United Progressive Alliance government not to succumb to "pressure" to accept United States President Barack Obama's economic and strategic alliance proposals, the Left parties on Monday claimed that these will only benefit the US and go against India's interest.
"We don't have any opposition to Obama's visit but his visit should not mean that our government, coming under the pressure of America, enters into agreements which goes against Indian sovereignty, economic interest, interest of farmers and labourers," Communist Party of India-Marxist general secretary Prakash Karat said.
The Left leader underlined that America was facing economic crisis and unemployment. "But more unemployment cannot be created in India to reduce unemployment in America," he said addressing a demonstration by Left parties in New Delhi to protest various economic and strategic proposals made by Obama to India during his maiden visit.
Karat said that since the visit of erstwhile US president Bill Clinton in 2000, America has succeeded in "bringing India into a coalition" and warned the government that "the people of this country have not given you mandate to become a military ally of America".
"Only America will completely be benefited by this coalition. It is not in the interest of the people of our country," Karat said.
According to him, the Left parties were staging demonstrations all over the country on Monday against the US proposals to India as it wanted Obama to "listen" not only to the government but also the "voice of the people of the country".
"We are not only staging demonstrations against American imperialism. We have a question facing us that how much this Manmohan Singh government is going to compromise and surrender before American pressure," Karat said.
The CPI-M leader alleged that US was putting pressure on India to facilitate the entry of American multinational companies in retail and agriculture sectors and claiming that if it materialises, it will be an "attack" on lakhs of small shopkeepers and businessmen of the country. America also wants to make India its military ally and is pressuring the United Progressive Alliance government to sign a defence logistic agreement with it, he charged.
"We want to caution our government. We know that the government is moving forward to allow American MNCs in retail sector. Likewise, pressure is being mounted by America to secure the entry of American MNC in our agriculture sector. It should not be done," Karat said.
"One of the American demands is signing of the logistical support agreement. America wants that its air force and navy use our airports and other facilities. We want to warn the Congress-led UPA government that you are still not in a majority in Parliament and the people of this country have not given you mandate to become a military ally of America," he added.