A rehearsal is being planned on Friday in Parliament House for the November 8 visit of United States President Barack Obama when he will address members in the historic Central Hall.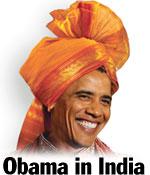 Parliament sources said that the move is aimed at ensuring that the much talked about function in the citadel of the world's largest democracy turns out to be a smooth affair, logistically.
To roll out a red carpet for Obama, Parliament House has been given a makeover. Right from the circular facade of the eight-decade-old structure to paintings in the corridors and magnificent Central Hall, Parliament has been refurbished.
The function has been organised by the Indian Parliamentary Group headed by Speaker Meira Kumar. As per the detailed programme, the visiting dignitary will start the address at 1738 hours.
He will arrive in Parliament House at 1725 hours. He will be received by Vice-President Hamid Ansari, Prime Minister Manmohan Singh, Speaker Meira Kumar and Parliamentary Affairs Minister Pawan Kumar Bansal.
While the Vice-President will deliver the welcome address, the Speaker will propose the Vote of Thanks. A teleprompter will be in use for the first time in the Central Hall when the US President addresses MPs.
Teleprompters are textbook-sized panes of glass holding the prepared remarks of the speaker which rests on top of a tall, narrow pole and in front of the podium during speeches.