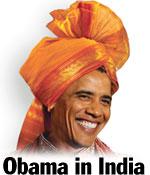 US President Barack Obama on Sunday got first hand account of how IT has revolutionised life in rural India, when villagers of Kanpura near Ajmer interacted with him in Mumbai through video conference.

After a short introduction by National Knowledge Commission chairman Sam Pitroda, Obama spoke to the villagers who shared the benefits of broadband penetration -- from online medical consultation, education and local e-governance.

The President expressed happiness about the progress being made with the aid of IT.

The villagers interaction was coordinated by Union Minister of State for Communications and IT Sachin Pilot, who said IT was not just about exporting services, but was also about changing lifestyle of rural India.

Much of what the President said could, however, not be heard because of poor audio quality.

India expects to achieve broadband penetration in all panchayats by 2012. Broadband spectrum was auctioned earlier this year and the network roll-out is currently underway.

Narrating his experience of how IT has helped change daily life in the village, Kanpura village panchayat secretary Shiv Shankar said: "Due to e-governance,

we are able to reach the local government with our problems."

"For instance, we were facing drinking water problem and we registered the complaint with the local government and got the hand-pump repaired in a short time."

Sunita Rajkote, who works with the Kanpura village panchayat, shared how the villagers have been able to access digitised medical reports.

"We are seeing benefits of the internet facility in our village. Earlier, we used to travel two hours to just see our medical reports. But now with the help of internet we are able to check our report in 5-10 minutes," she said.

Minister of State for Communications and IT Sachin Pilot also explained how IT has helped villagers access higher education.

Nupur Chauhan, who is pursuing an MBA programme online, said, "I am studying MBA using internet at my village. I can download the course material, take exam and get results. Also, I can apply for jobs from Kanpura village itself. Earlier, I had to travel 20 miles to Ajmer for all these things."