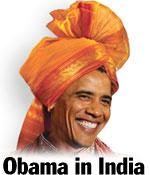 India is not expecting any "big bang" outcome from the forthcoming visit of US President Barack Obama but said it will help in creating a long-term strategic framework by providing substantive content and shape to the bilateral ties.
Besides reflecting an "essential continuity" to the ties, the visit will also provide another opportunity to consolidate all that have been built by two countries in the past decade, Foreign Secretary Nirupama Rao said while addressing a gathering in New Delhi.
"We are not at a stage in our relationship, perhaps for another big bang but certainly there will be positive outcomes...from the forthcoming Presidential visit.

"We will see concrete and significant steps in wide range of areas that will expand the long-term strategic framework in a way that we can create productive partnership for the mutual benefit and (will be) equally important to give substantive content and shape to the global strategic partnership," she said.
Rao said recent months has seen an accelerated momentum in the relationship in various areas, including trade and counter-terrorism which was evident from the way India got access to Pakistani-American terrorist David Headley, currently lodged in jail in the US.

The ties have not only sustained but have deepened and intensified, she said. Rao said the two countries have also completed the remaining steps of implementation of civil nuclear cooperation agreement, including arrangements and procedures and assurances.
She said the country has also signed Convention on Supplementary Compensation (CSC) on nuclear damages at International Atomic Energy Agency (IAEA).
"We welcome the commencement of commercial negotiations between Indian operators and the US companies and we look forward to shared goal of robust Indo-US civil nuclear sector," she said.
She also mentioned that the two countries were at a stage where they can give concrete shape to their democratic values by reforming the global institutions of governance to reflect contemporary realities.