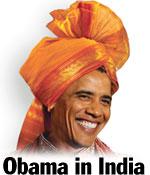 Barack Obama became the second American President to address the Parliament after Bill Clinton in 2000 on Monday and though the joint session opened to a packed Central Hall, the buzz, excitement and sheer charisma of Clinton's visit was missing.
Obama was escorted to the Central Hall by Prime Minister Dr Manmohan Singh, Lok Sabha Speaker Meira Kumar and Vice President Hamid Ansari to the central hall, where he received a standing ovation from the Members of Parliament. There was much anticipation among the politicians to hear America's first African-American President speak.     
From Congress president Sonia Gandhi and BJP patriarch L K Advani to Dr Singh's cabinet, governors and former speakers to diplomats and US officials, each and everyone stood while Obama penned a few lines in the golden book.  "As a representative of the world's oldest democracy, it's a true honour to address the world's largest democracy. May the friendship between our two countries continue to grow in the years to come," he wrote and then signed.
The who's who from India's political circles thronged the Central Hall on Monday evening. Rahul Gandhi in his trademark kurta pajama was seen sitting next to Delhi Pradesh Congress Committee chief Jai Prakash Aggarwal, even as cousin Varun Gandhi was looking for a place to sit before he made himself comfortable next to Bharatiya Janata Party spokesperson Rajiv Pratap Rudy.
Advani's daughter also made a few rounds around Central Hall before she found a seat in a section earmarked for special invitees. Robert Vadra was also seen being escorted to this section but wife Priyanka chose to remain absent from the proceedings.
Railway Minister Mamata Banerjee sat next to her Trinamool Congress colleagues at the back of the central hall, leaving her seat in one of the front rows vacant. 
MPs like Jyoti Mirdha and Anu Tandon stood throughout Obama's  speech, as politicians made a beeline for the central hall as early as 3 pm for an address which began at 5.30 pm.
Using a teleprompter, Obama drew applause after every few sentences though his references to the United Nations Security Council seat and Pakistan drew the biggest response. It was a power-packed speech he made references to Mahatma Gandhi, Swami Vivekananda, Dr Ambedkar and connected with the MPs as he spoke of Chandini Chowk.
Post Obama's 35-minute speech there was a clamour to shake hands with him. Some curious MPs were seen photographing the lines written by him in the golden book with their mobile phone. Certainly impressed by the US President, ministers were heard acknowledging Obama's speech and his oratory skills.  
However, not all were impressed. Many said the electrifying atmosphere, which was evident during Clinton's visit, was missing. A senior MP said that the aura of a world leader was missing. "Maybe because he had come seeking for deals. A situation, which is new to both the United States and India."
Another senior leader characterised the speech as "high on rhetoric and low on substance."