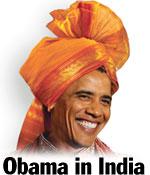 Victims of the 1984 Bhopal gas tragedy on Saturday held a demonstration protesting United States President Barack Obama's India visit and sought to know why he and his predecessors kept mum on the world's biggest industrial disaster.
In an open letter to Obama through the American embassy, the gas victims asked, "Despite knowing that over 25,000 persons have died till now due to leak of poisonous gas from the Union Carbide factory in Bhopal, why the previous presidents of America, in the last 26 years, and Obama himself did not bother to utter a word on the Bhopal gas disaster?"
"This clearly shows that Obama like his predecessors wants to protect the criminal US company Union Carbide Corporation, Dow and former UCC Chairman Warren Anderson," they said.
Though Obama was unable to make UCC-Dow take future responsibility of the gas leak, he is coming to India with 250 chief executive officers of multinationals for controlling the Indian market, the victims charged.
Stating that inadequate compensation was given to the gas victims, they also asked him, "When will we be paid adequate compensation according to international norms?"
The victims also requested Prime Minister Manmohan Singh to raise their issue with Obama.