Vaihayasi P Daniel checks out the Presidential suite at the Taj Mahal hotel in Mumbai, home for Barack and Michelle Obama for a day.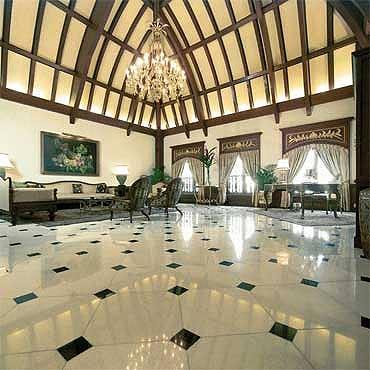 Mumbai's most expensive hotel room is the Grand Presidential Suite.
That's where President Barack Obama will stay during his sojourn in the city.
Located in one of India's oldest hotels, the Taj Mahal Palace hotel, this room will cost the American embassy in India $4,000 plus a night (the tariff for this room before Mumbai's 26/11 was approximately $3,800).
The suite was refurbished after the attack on the Taj and has only just recently become available again to guests.
This palatial suite, with Italian marble floors, furnished with antiques (ranging from Belgian chandeliers to British era artifacts), original paintings (that were restored by a battery of artists after they were damaged in the terrorist attacks) and old-style grandeur, offers a patio overlooking the harbour, a balcony in the shadow of the Gateway, a master bedroom and a living-dining room.
In recent years the Presidential Suite or the adjoining and equally fancy Rajput Suite have hosted Prince Charles; Mohamed VI, the king of Morocco; novelist Salman Rushdie; singer Tina Turner; Olympian legend Carl Lewis; actor Richard Gere; actress Jane Fonda; philanthropist David Rockefeller; mathematician Professor John (A Beautiful Mind) Nash; Rolling Stone Mick Jagger and plenty of princes, princesses and heads of State.
And how much would it have cost the Americans to take over the Taj Mahal Palace hotel for three days? Let's do the math.
The hotel has 560 rooms of which, at last count, 45 were suites.
A superior room at the Taj sets you back by Rs 12,500. Suites are priced upwards of Rs 50,000. So the bill for the hotel at the very minimum would be Rs 26 million (approximately $580,000).
In reality it would be closer to Rs 42 million (approximately $930,000) considering that the hotel offers, in addition to superior rooms, deluxe rooms at higher tariffs and the suites are variously priced.
And this figure, folks, does not account for the whopping compensation due to the Taj for the 10 restaurants, the patisserie, salons, spa and the 20,000 square feet of banqueting that will remain closed when Michelle and Barack stay here.
A word about Mumbai's iconic hotel: The Taj was built in 1903 in a combination of Moorish, Oriental and Florentine styles, boasts alabaster ceilings, onyx pillars, exotic furnishings and 1920s Bombay-under-the-British-Raj charm.
Image: The sitting room at the Presidential Suite at the Taj Mahal Hotel, Mumbai. Photograph courtesy: Taj Hotels