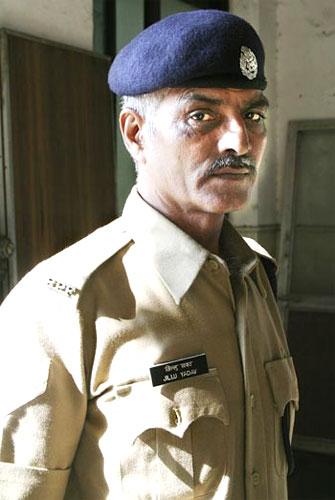 26/11 hero RPF constable Jillu Yadav tells A Ganesh Nadar about his meeting with US President Barack Obama.
Jillu Yadav, a constable attached to the Railway Protection Force, was on duty at the Chhatrapati Shivaji Terminus on the night of November 26, 2008, when Pakistani terrorists Abu Ismail and Ajmal Kasab opened fire at hapless passengers.
Yadav, who only had a baton with him, did not run away like many others did in panic that horrific night.
Instead, he grabbed a rifle from another policeman and fired at the terrorists.
Yadav was among the 26/11 heroes and survivors invited to meet United States President Barack Obama at the Taj Mahal hotel in Mumbai on Saturday.
"I went in uniform at 11.15 am. We sat down, had snacks, tea, and chatted amongst ourselves," he told Rediff.com
Yadav was the only RPF personnel invited to the event.
When Obama addressed the 26/11 survivors, "I did not understand a word as he spoke in English," Yadav said.
It was a "privilege and honour to meet the president of such an important country," he added.
Obama shook hands with everyone present. "When he shook my hand, he said something in English. I just smiled and shook his hand," Yadav said.
Many people took the US president's autograph on their invitation letters. (In contrast to the townhall at St Xavier's where Obama declined to sign any autographs, he signed autographs at the Taj event, presumably as tribute to the courage of the 26/11 survivors). Yadav did the same.
"Everyone was taking his autograph, so I also took it. I will preserve it," he said.
"They let us leave after a little while," he added. "I came back to CST."
Photograph: Uttam Ghosh/Rediff.com
ALSO READ: 26/11 hero gets memento after meeting Obama
Martyred cabbie's wife meets Obama, comes away impressed
What Obama told 26/11 survivors
What Barack and Michelle told the kids: The Best Coverage, only on Rediff.com