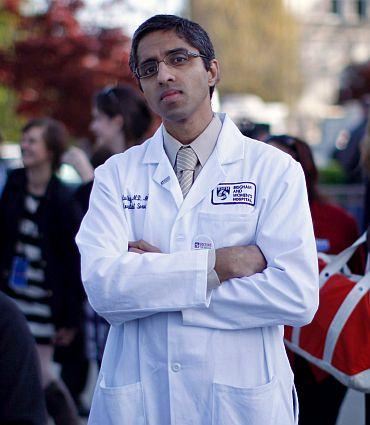 United States President Barack Obama has nominated Indian American Dr Vivek Hallegere Murthy -- popularly known as 'America's Doctor' -- to be the next US Surgeon General.
Murthy's elevation comes along with several other nominations to key US administration posts.

Earlier, in his first term, Obama had sounded out Dr Sanjay Gupta, CNN's Chief Medical Correspondent and a top neuro-surgeon for the post, but Gupta had declined.

Former President George W Bush had also, in his first term, tapped Indian American physician Dr Zach Zachariah, a cardiologist in Fort Lauderdale, Florida and a leading Republican Party fund-raiser for the post, but he too had politely refused, not wanting to go through the protracted and rigorous Senate confirmation process.
But Murthy, who looked dapper in his traditional Indian outfit on November 5 at the White House Diwali celebration, presided over by First Lady Michelle Obama, apparently had no qualms, and once he's confirmed by the Senate -- which is expected to be a formality considered his impeccable credentials and track record -- will be yet another Indian American who creates history by becoming the first Indian American US Surgeon General.
If confirmed, he will replaced Regina Benjamin, who was appointed by Obama in 2009 and resigned this summer. Since then, Rear Admiral Boris Lushwiah has been serving as the Acting Surgeon General.
Dr Amerish 'Ami' Bera, California Democrat and the only Indian American lawmaker in the US Congress, told rediff.com, "I applaud President Obama's choice of Vivek to be the next Surgeon General."
"As a practicing physician and instructor at Brigham and Women's Hospital at Harvard, a supporter of innovation and technology in medicine, and a leader in the medical community, he is extremely well qualified to take on the role, and I look forward to his confirmation," Bera added.
Another second-generation Indian American physician, Dr Jay Bhatt, and a close friend of Murthy, told rediff.com, "Vivek has been an incredible friend, mentor, and partner in building a community of medical students and physicians fighting with advocates for quality, affordable, healthcare for all."
Bhatt, who is managing deputy commissioner, Chicago Department of Public Health, recalled, "I was fortunate to have been a part of the leadership team that launched Doctors for America and help it grow into a community advocating to put the care back in healthcare."
"Vivek inspired the community he worked with and on behalf of to be better, to be empowered, and to change their future," he said.
Bhatt continued, "Vivek exhibited he was able to communicate effectively in both oral and written forms. When he spoke, people listened."
"Our healthcare system will require innovative leadership. Vivek has the capacity, emotional maturity, and entrepreneurial spirit to improve care delivery for populations as our Surgeon General," he added.
Bhatt predicted, "He will be a stalwart leader for public health in our country. He understands the cultural change, the values and attitudes that need to be changed to close the gap of our reality to the aspiration of a healthy society."
He reiterated that "I am excited that the President nominated a dear friend, mentor, and colleague, as Surgeon General," and said he had no doubts that Murthy would "fight fearlessly for the health of people in our nation and engage communities in ways they have never been before so they are empowered to change their future and that of their communities."
The American Association of Physicians of Indian Origin also expressed delight over Murthy's nomination, with AAPI president Dr Jayesh Shah declaring that 'it cements the reputation physicians of Indian origin have across America.'
Shah said, 'President Obama has made the right choice in naming a highly qualified physician to serve as America's next surgeon general. We are proud of Vivek and his many accomplishments and look forward to supporting him throughout the confirmation process.'
In 2009, Gupta, who had agonised over then President-elect Barack Obama's offer to become the nation's next surgeon general, decided not to take up the job that could have made him the first Indian American to hold it.
It was a done deal if he wanted the job, administration sources said at the time, but CNN's chief medical correspondent and practising neurosurgeon asked that his name be taken out of consideration.
At the time sources close to Gupta told rediff.com that taking up this position would mean a huge financial sacrifice since it would pay him a fraction of what he is earning as a practising surgeon and journalist with CNN and contributing to CBS and writing columns for Time magazine.
Officials earlier said his passion for public service, the opportunity to work on the Obama administration's health-care reform policy and the high profile he would enjoy, were likely to override the financial and professional sacrifices he would make.
Besides, the sources said at the time that Gupta had been overwhelmed Obama had discussed him taking the job at an hour-long meeting in Chicago.

Murthy is the co-founder and president of Doctors for America -- a position he has held since 2009. He is also the attending physician and instructor in medicine at Brigham and Women's Hospital at the Harvard Medical School, a position he has held since 2006.
In January 2011, Murthy was appointed by Obama to serve as a member of the advisory group on prevention, health promotion, and integrative and public health.

He also co-founded VISIONS Worldwide in 1995, a non-profit organisation focused on HIV/AIDS education in India and the United States, where he served as president from 1995 to 2000 and chairman of the board from 2000 to 2003.
Murthy is an alumnus of the Harvard University and the Yale School of Medicine, from where he received his BA, majoring in biochemical sciences, and MD respectively. He also received an MBA from the Yale School of Management.