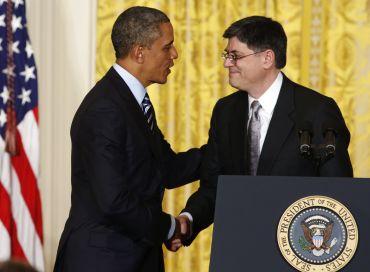 United States President Barack Obama, in an effort to rejuvenate the battered US economy, on Thursday nominated his chief-of-staff and budget specialist Jack Lew as the next treasury secretary.
"I cannot think of a better person to continue Tim's work at treasury than Jack Lew," Obama said, in a White House event announcing his nominations for the top cabinet jobs in his second term beginning January 20.
"Jack knows that every number on a page, every dollar we budget, every decision we make, has to be an expression of who we wish to be as a nation," Obama said.
"So, I hope the Senate will confirm him as quickly as possible," Obama said.
The 57-year-old, if confirmed by the Senate, will replace Timothy Geithner, who has announced his decision to quit the Obama cabinet by January end.
"Jack Lew will bring an impressive record of service in both the public and private sectors for over three decades and economic expertise to this important role, and his deep knowledge of domestic and international economic issues will enable him to take on the challenges facing our economy at home and abroad on day one," a White House official said, explaining the reasons behind Lew's selection.
"Throughout his career, Jack Lew has proven a successful and effective advocate for middle class families who can build bipartisan consensus to implement proven economic policies," the official said.
"As White House Chief of Staff, Jack Lew led the president's team in tackling some of the toughest domestic and international economic challenges facing our nation in decades," the official said, adding that that the challenges included strengthening nation's recovery from the worst economic crisis since the Great Depression to dealing with serious fiscal matters and challenges in the global economy.
"He also led the Office of Management and Budget under President Clinton and President Obama, negotiating a historic agreement with Congress during the Clinton administration to balance the federal budget and leading the negotiations of the bipartisan Budget Control Act in 2011, which brought discretionary spending to historically low levels," the White House official said.
As Deputy Secretary of State for Management and Resources, in addition to managing the day-to-day operations of the Department, Lew managed the State Department's international economic policy portfolio and travelled the world to advance our nation's interest, said the official.
"He also has a distinguished record leading private and public sector institutions and will bring strong relationships in the business community to his new role," the official said.
"At Citi, he was part of the senior internal management team of this global financial institution, serving as Managing Director and COO of Citi Global Wealth Management and then as Managing Director and COO of Citi Alternative Investments," he said.
A series of economic topics, including how to raise the $16.4 trillion federal borrowing limit to avert a first-ever default by the government and how to respond to China's growing economic might, would await Lew at the treasury department, experts said.
Image: US President Obama shakes hands with White House Chief of Staff Lew during an announcement nominating him as the next treasury secretary in Washington, DC
Photograph: Larry Downing/Reuters