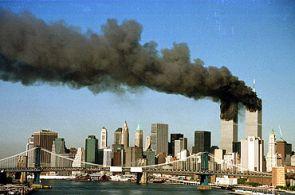 United States President Barack Obama led the nation in remembering the victims of the September 11, 2001, terror attacks as well as all American soldiers who laid down their lives in subsequent wars in the 12 years since the tragedy.
"Today, we remember not only those who died that September day, we pay solemn tribute to more than 6,700 patriots who have given their full measure since, military and civilians," Obama said in his remarks at a 9/11 observance ceremony at the Pentagon Memorial on the 12th anniversary of the attacks.
"We see their legacy in the friendships they forged, the attacks they prevented, the innocent lives they saved, and in their comrades in Afghanistan who are completing the mission and who, by the end of next year, will have helped to end this war," Obama said.
Accompanied by Defence Secretary Chuck Hagel and General Martin Dempsey, Chairman of Joint Chiefs of Staff, Obama said it was an honour to be at the Memorial to remember the tragedy of 12 Septembers ago to recall the greatness of all who responded and to stand with those who still grieve and to provide them some measure of comfort once more.
"Together we pause and we pray and we give humble thanks, as families and as a nation, for the strength and the grace that from the depths of our despair has brought us up again, has revived us again, has given us the strength to keep on," he said.
"We pray for the memory of all those taken from us, the nearly 3,000 innocent souls," Obama said.
As many as 184 people died when a plane hijacked by terrorists crashed into the Pentagon -- the headquarters of the US Department of Defence.
"Twelve years ago, at this hour, in this place, a horrific act of terror claimed 184 innocent lives. Today, we come together to honour the fallen, surrounded by those who loved them. We remember each of those taken from us. We remember them as individuals with their own story," Hagel said.
Earlier, at the South Lawn of the White House, Obama, First Lady Michelle Obama, and Vice President Joe Biden observed a moment of silence at precisely 8:45 am (time of the first attack) to remember the victims of the world's deadliest terrorist attacks.
The attacks killed nearly 3,000 people when hijacked planes crashed into the twin towers of the World Trade Centre in New York, the Pentagon in Washington and in Shanksville, Pennsylvania.