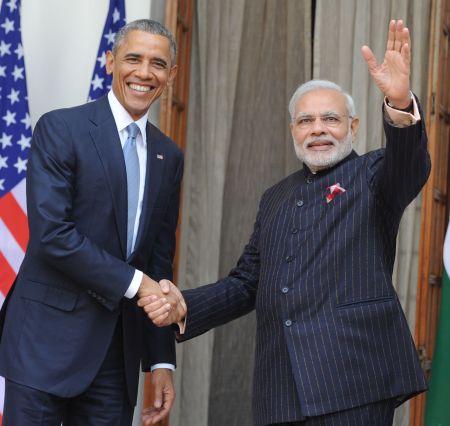 Identifying terrorism as a major challenge, India and the US on Sunday stressed the need for joint and concerted efforts to disrupt terror entities including Laskar-e-Taiba, D Company and the Haqqani Network and asked Pakistan to bring the perpetrators of 26/11 terror attack to justice.
After his talks with US President Barack Obama, Prime Minister Narendra Modi at a joint press conference said there should be no distinction between terrorist groups and pressed for countries to fulfil their commitment to wipe out terror safe havens and bring them to justice.
He said India and the US have agreed that there was a need for comprehensive global strategy and approach to combat terrorism.
"The leaders reaffirmed the need for joint and concerted efforts to disrupt entities such as Lashkar-e-Taiba, Jaish-e-Mohammad, D Company and the Haqqani Network, and agreed to continue ongoing efforts through the Homeland Security
Dialogue as well as the next round of the US-India Joint Working Group on counter terrorism in late 2015 to develop actionable elements of bilateral engagement," a joint statement said after the talks.
The two sides noted the recent US sanctions against three D Company affiliates.
Obama and Modi further agreed to continue to work toward an agreement to share information on known and suspected terrorists.
They also agreed to enter discussions to deepen collaboration on United Nations terrorist designations, and reiterated their call for Pakistan to bring the perpetrators of the November 2008 terrorist attack in Mumbai to justice, it said.
The president and the prime minister also noted the positive cooperative engagement between the Indian and the US authorities with a view to working together to counter the threat of IEDs and to develop counterterrorism best practices.
"Terrorism remains a principal global threat. It is taking on a new character, even as existing challenges persist," Modi said.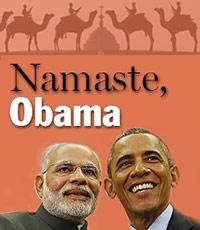 Modi said the two countries agreed that they need a "comprehensive global strategy and approach" to combat it.
"There should be no distinction between terrorist groups. Every country must fulfil its commitments to eliminate terrorist safe havens and bring terrorists to justice," he said.
He said the two countries will deepen their bilateral security cooperation against terrorist groups. "And, we will further enhance our counter-terrorism capabilities, including in the area of technology," said the PM.
Obama thanked Modi for India's "strong counter-terrorism cooperation".
He said as America's combat mission is over in Afghanistan, "we are going to continue to be strong and reliable partners for the Afghan people who have benefited from India's generous assistance over many years".
India, US to restart talks on social security pact
Furthermore, PM Modi said that the two countries would restart discussions on the
Social Security Agreement and resume talks on the Bilateral Investment Treaty.
"President Obama and I agree that a strong and growing economic relationship is vital for the success of our strategic partnership. Economic growth in our two countries is becoming stronger. Our business climate is improving. This gives me great optimism about our economic ties," he said.
In addition, Modi said the two countries have established a number of effective bilateral mechanisms to identify opportunities and also help their businesses trade and invest more.
"We will also restart discussions on a social security agreement that is so important for the hundreds of thousands of Indian professionals working in the United States," Modi said.