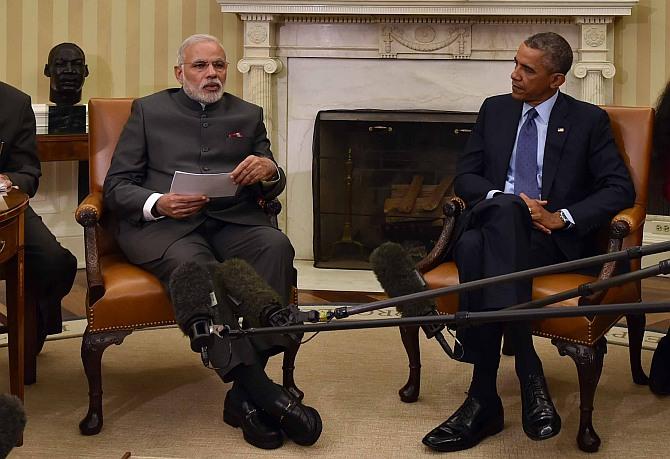 India and United States will walk the talk on Sunday, says Sheela Bhatt/Rediff.com, with nuclear power, clean energy technology and renewing the Defence Trade and Technology Initiative on the table amongst other issues.

Prime Minister Narendra Modi and United States President Barack Obama will meet on Sunday, January 25, at Hyderabad House a few hours after the American leader's arrival in New Delhi.

A day later, Obama will attend the Republic Day parade as chief guest, the first time an American president has done so.

According to government sources, Modi wants to make January 25 as memorable as July 18, 2005, when then prime minister Manmohan Singh and then US president George Bush agreed on the framework for the India-US nuclear agreement under which India, for the first time, agreed to separate its civil and military nuclear facilities.
India, also, agreed to place its civil nuclear establishments under the International Atomic Energy Agency.

In the last six years, the momentum to exploit the huge opportunity in the field of nuclear-reactor based energy has been wasted due to multiple reasons. One serious impediment has been the issue of liability on the part of the supplier of nuclear reactors.

Speaking about Modi's broad approach to Obama's visit, an important government official, who is overseeing the final prints of India-US bilateral diplomacy, told Rediff.com, "Modi is applying the same (aggressive and solution-oriented) approach to diplomatic relations which he applies in domestic politics."

What the senior diplomat means is that Modi wants to remove the deadlock in nuclear energy and make things work to get investments, technology and ultimately impact the Indian economy. In domestic politics and in international diplomacy working for economic growth is the ultimate aim, adds the diplomat.

Unlike the Russians, multinational corporations of the American nuclear industry are wary of the liability clause under India's Civil Liability Nuclear Damage Act, 2010. The Act was passed by Parliament after much debate and resistance by the Bharatiya Janata Party and the Left parties.

These parties had insisted the addition of a few clauses that made it tougher for suppliers to get away from liability in case of a nuclear accident. The issue of the Bhopal gas tragedy was a dominant factor, justifiably, on the minds of Indian lawmakers.

The deadlock, created due to the tough clauses, didn't allow the then Congress-led government to exploit the diplomatic gains of getting an India-specific waiver from the Nuclear Suppliers Group. According to sources, Modi is determined to solve this issue without any political cost.

Modi has been monitoring closely the search for a solution to end the deadlock over the issue. The India-US Contact Group on nuclear cooperation met recently in London.

India wants the inflow of American investment in building nuclear-power based reactors. The Obama visit will ensure the display of political resolve from both sides. Along with lots of hype, the aim is to inject political resolve to put matters on the fast-track.

A former Indian ambassador, who has played a key role in enhancing the India-US relationship, speaking on condition that he would not be identified by name for this report, said, "This
time, the American leaders think that whatever will be promised in bilateral talks will be delivered. Since 2009, in American eyes India's credibility has been low in delivering results. Modi's actions so far assures them that he is capable of delivering on promises."
"The Communications Interoperability and Security Memorandum of Agreement and Mutual Logistic Support Agreement were discussed threadbare between India and America for many years since 2005," the ambassador said, adding that the final copies of both, which were sent to Washington, were drafted by the Indian side. Later, the Indian political leadership rejected it, under domestic pressure.
Now, he feels, "with a decisive leader like Modi things will change and India's credibility will be restored in delivery on promises. The gap between promise and performance will narrow down now."
C Uday Bhaskar, Director, Society for Policy Studies, tells
Rediff.com
, "India has overcome political wariness vis-a-vis the US. Earlier, it clouded any visible and tangible engagement with the US."
In November when Modi was in Mynamar to attend the 25th ASEAN summit his brief talk with Obama culminated in this unprecedented event when in a span of just four months India and America will conduct a second round of talks at the highest level.
On Modi's return, the ball was set rolling to get Obama's approval to be the chief guest at the Republic Day parade. The Ministry of External Affairs in New Delhi was unaware of Modi's move. India's Ambassador to the US Dr Subrahmanyam Jaishankar did his job discreetly in Washington, DC.
The political symbolism of the Obama visit for the Republic Day parade is both enormous and distinctive, says Bhaskar.
Naresh Chandra, a former Indian ambassador to America, says, "Narendra Modi seems to have seen through the hypocrisy in dealing with the US. There was time when Indian diplomats were wary of saying that India and the US are natural allies. Only after (Atal Bihari) Vajpayee's term did Indian diplomats warm up to the term."
Chandra and other diplomats think that India-US relations will see upward mobility. Chandra believes that even China is seeing the "economy logic" between India and the US and it will not be a constraint in any way as China has robust trade with America.
Another retired ambassador, who has served in many important world capitals, says, "Obama's presence at the Republic Day parade is an American way to honour the Indian Constitution and also India's military might. President Obama is acknowledging by his presence that India is a strong democracy and a strong military power with a huge market economy."
This diplomat advises caution that India-US relations will see lots of hype on Modi's 'Make in India' mantra. But he thinks Modi's insistence on 'Make in India' is not workable with American help because the US is reluctant to part with high-technology and intellectual property rights.
The economy of joint ventures and buying rights to manufacture American high-cost items in India will be prohibitive, he says, adding, "Make in India will not work. Made by Indians will work. As it has happened in information technology. Indian brains can contribute in high-technology sectors."