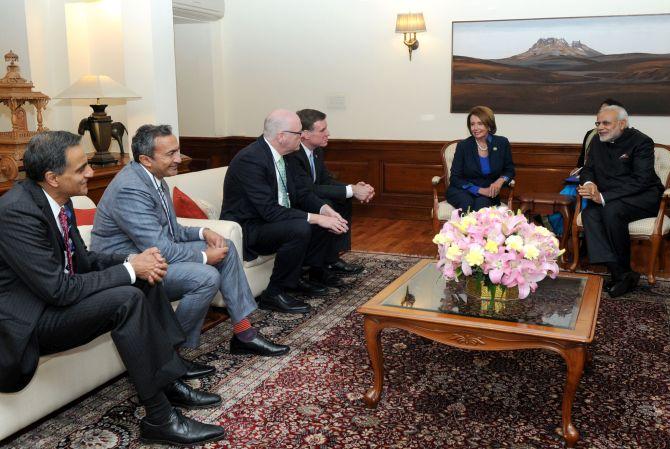 Image: Members of the United States Congress -- Nancy Pelosi, the Minitory Leader in the House of Representatives, Senator Mark Warner, US Congressmen Joe Crowley and Ami Bera with US Ambassador to India Richard Rahul Verma meet Prime Minister Narendra Modi in New Delhi, January 26, 2015. Photograph: Press Information Bureau
After travelling with US President Barack Obama to India aboard Air Force One, Dr Amerish 'Ami', jet-lagged and still unwinding, tells Aziz Haniffa/Rediff.com in Washington, DC that he can't still believe he was part of the historic visit.
Dr Amerish 'Ami' Bera -- the only Indian-American lawmaker in the United States Congress -- is on cloud nine after being part of what he describes as a "historic mission to India."
A very jet-lagged Dr Bera in an interview to Rediff.com in the wee hours of January 28 said calling US President Barack Obama's three-day visit to India a memorable one would be an understatement.
Dr Bera, who got up close and personal with Obama and Prime Minister Narendra Modi, declared that the chemistry the two leaders shared was "for real," adding that it was a manifestation of their "mutual admiration and respect."
"They really do respect one another; they have similar stories -- both coming from the ground up and making their own way in the world -- and this was very evident in all of their interactions."
"There is a real sense of optimism in both governments," Dr Bera said, adding, "and certainly you see a renewed energy in India and that was evident to me and also a number of members of the Diaspora who made the trip to New Delhi.
En route to India aboard Air Force One, the president walked up to the back of the plane where Dr Bera was seated and spoke to him and the delegation. "He was very personable and came back and chatted. So did the First Lady."
"As I mentioned to you before I left, I mentioned this to the president too, that it was such an honour that he was taking me on this trip," Dr Bera added.
Obama told Dr Bera that "as the only Indian-American in Congress, it was important for me to come along and represent the Diaspora. And then we spoke of policy, Congress and the next steps to be taken in the US-India relationship."
"He (Obama) gets that the Diaspora has an important role in moving the relationship forward," Dr Bera added.
The Democrat lawmaker said Obama was truly honoured to attend the Republic Day parade. "Being on the same reviewing stand as the Indian President and prime minister was truly memorable for him and a great honour. It was a certainly a show of pride on the Indian side."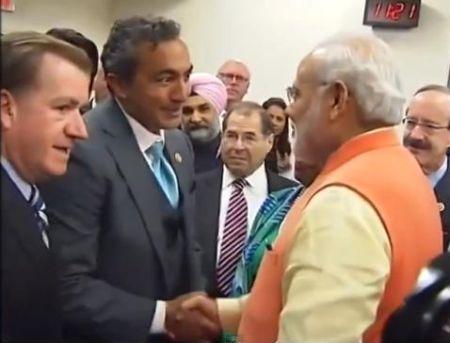 Speaking about the Congressional delegation's meeting with Modi on Republic Day, Dr Bera said the 45-minute meeting was a result of the "PM himself reaching out and requesting time with us."
"Again, the discussions reiterated the shared values of our two countries and that we should continue looking for places where we can work together."
"Obviously, Congress has a role here as well and being chair of the India Caucus now, we don't view India in a partisan way -- as Democrats and Republicans -- but there is so much broad support in both parties for a strong US-India partnership," Dr Bera said.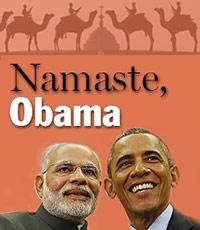 Modi, he said, spoke to him in Gujarati. "I could actually understand a majority of what he was saying. He knew that my parents were from Rajkot and that I was Gujarati-American."
Dr Bera said it was great to have US Ambassador Richard Rahul Verma with them during their meetings and predicted, "Rich is going to be a great ambassador -- to watch him in action at the meetings. He clearly has a grasp of the US-India relationship in all of its facets and nuances."
"And just to see the first Indian-American ambassador to India was just so exciting," he said.
Dr Bera spoke of how having himself and Verma on the US side during the meeting with Modi was "yet another historic event and the Diaspora should be very proud of this."
He said he was "very optimistic" about the agreement between both leaders to operationalise the US-India civilian nuclear agreement "because it was stuck in neutral for the last six years."
"Now there is positive movement forward -- the PM wants to see it move forward -- and so now the US companies will be able to help India expand its nuclear energy capabilities."
Modi, Dr Bera said, had reiterated his "ambitious agenda to meet India's energy needs in a cleaner way and nuclear is one of the components of that."
He acknowledged that "obviously they will be talking to move things forward, but as the Indian press and the US press has reported, you've got progress and now it's in the hands of the American companies to see if they want to start to building these plants."
REDIFF RECOMMENDS: