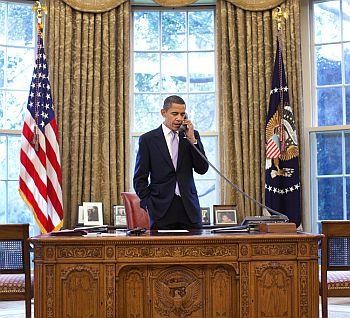 United States President Barack Obama has hailed the "historic understanding" reached between world powers and Iran over the framework of a deal on its contentious nuclear programme, even as Israel warned that it would threaten the Jewish state's survival.
Obama praised the framework agreement on Iran's nuclear programme as a "historic understanding" and a "good deal" that is better than risking "another war" in the Middle East and one that would "cut off every pathway" Iran could take to develop a nuclear weapon.
"This has been a long time coming," Obama said in his remarks from the Rose Garden in White House following the announcement of the breakthrough achieved between Iran and six world powers in Lausanne, Switzerland, after marathon talks.
Western powers have long distrusted Iran's assertions that its nuclear programme is peaceful.
Obama said the United States, along with its allies, reached a "historic understanding with Iran, which, if fully implemented, will prevent it from obtaining a nuclear weapon."
"Today, after many months of tough, principled diplomacy, we have achieved the framework for that deal. And it is a good deal, a deal that meets our core objectives. This framework would cut off every pathway that Iran could take to develop a nuclear weapon," Obama said.
According to "parameters" of the agreement published by the US State Department, Iran must reduce the number of its centrifuges that can be used to enrich uranium into a bomb by more than two-thirds.
Iran also has to redesign a power plant in Arak so it cannot produce weapons-grade plutonium, be subject to regular UN inspections, and agree not to enrich uranium over 3.67 per cent -- far less than is required to make a nuclear bomb -- for at least 15 years.
The parties have set a deadline of June 30 to reach a comprehensive pact, but these negotiations are expected to be tougher than those that led to the framework agreement.
Iranian foreign minister Javid Zarif called it a "win-win outcome", but warned: "We have taken a major step, but are still some way away from where we want to be."
US Republicans, however, expressed scepticism about Thursday's deal to curb Iran's nuclear programme.
House Speaker John Boehner slammed it as an "alarming departure" from the White House's initial goal.
"My immediate concern is the administration signalling it will provide near-term sanctions relief. Congress must be allowed to fully review the details of any agreement before any sanctions are lifted," he said in a statement.
Hundreds of Iranians took to the streets in Tehran to celebrate after the agreement was announced.
A full nuclear deal with Iran will enable it to participate in the global nuclear fuel market, Iranian Foreign Minister Mohammad Javad Zarif said.
But Iran's arch-rival Israel said the deal would increase the risks of nuclear proliferation and of "a horrific war".
When Obama called Prime Minister Benjamin Netanyahu after the agreement, the Israeli Premier told him the deal "would not block Iran's path to the bomb. It would pave it," according to an Israeli spokesman.
"A deal based on this framework would threaten the survival of Israel," Mark Regev said.
UN Secretary-General Ban Ki-moon also congratulated the team of international negotiators and Iran on achieving the political framework that paves the way for a joint plan of action on Iran's nuclear programme to be achieved by June 30.
The P5+1 group -- the US, Britain, China, France and Russia plus Germany -- hope that the deal will make it virtually impossible for Iran to make nuclear arms.
Obama also spoke separately with French President Francois Hollande, German Chancellor Angela Merkel and British Prime Minister David Cameron, thanking the leaders for each country's important role in negotiating the historic step.
The leaders affirmed that while the deal is yet to be signed, the framework represents significant progress towards a lasting, comprehensive solution that cuts off all of Iran's pathways to a bomb.