Walking a tight-rope following a Chinese warning, United States President Barack Obama on Thursday shared the stage with his "good friend", Tibet's exiled spiritual leader Dalai Lama, at the annual National Prayer Breakfast in Washington.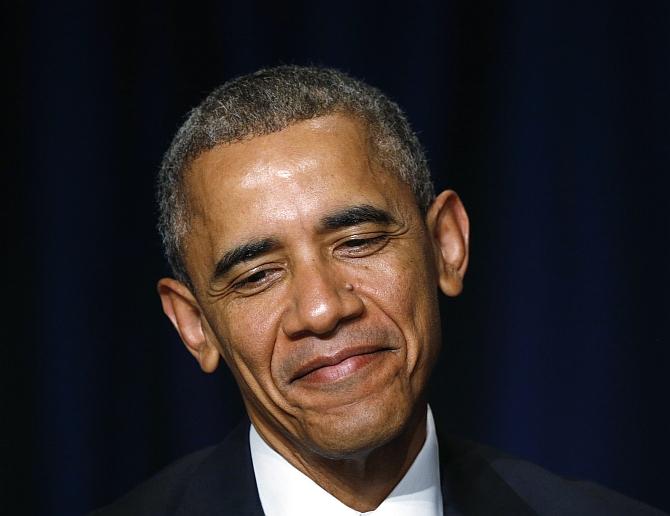 Obama, speaking at a closely watched event in Washington, said that the Tibetan leader was "a powerful example of what it means to practice compassion and who inspires us to speak up for the freedom and dignity of all human beings."

In a show of White House support for the Dalai Lama, he was seated at a table with Valerie Jarrett, one of Obama's closest adviser, as well as actor Richard Gere.

Obama departed the prayer breakfast without appearing to have any direct interaction with the Dalai Lama.

Over 3,000 people from various faith backgrounds are reportedly attending the high-profile National Prayer Breakfast, which will focus on the importance of religious freedom.

Beijing had registered its displeasure over Obama's plan to make his first public appearance with the Dalai Lama, reinforcing its staunch opposition to any official recognition of the exiled Tibetan leader.

Just moments before the event, state-run Xinhua news agency strongly warned against any encounter.

"Chumming with a secessionist is playing with fire," the agency said.

"If Obama meets the Dalai Lama, he will simply reverse the positive trends established by China and the US in the development of their relations. For all that, any possible meeting or encounter with the Dalai Lama planned by Obama will dampen the hard-won positive momentum in China-US relations," it said.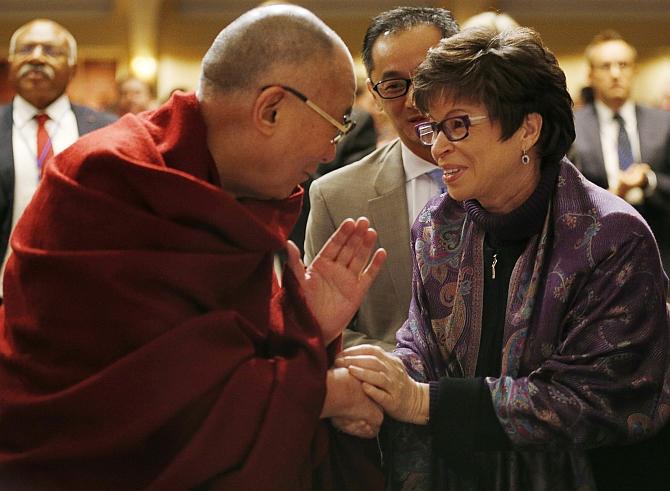 Image: The Dalai Lama shakes hands with Valerie Jarrett, senior advisor to US President Barack Obama, at the National Prayer Breakfast in Washington, February 5, 2014. Photograph: Kevin Lamarque/Reuters
However, Washington defended Obama's decision to share the stage Dalai Lama.

Bernadette Meehan, a National Security Council spokeswoman, said: "The president is a strong supporter of the Dalai Lama's teachings and preserving Tibet's unique religious, cultural and linguistic traditions. As he has done in the past, the president will see many religious leaders at the event, but we don't have any specific meeting with the Dalai Lama to announce."

Since taking office, President Obama has met the Dalai Lama three times. But none of the meetings have been held in public.