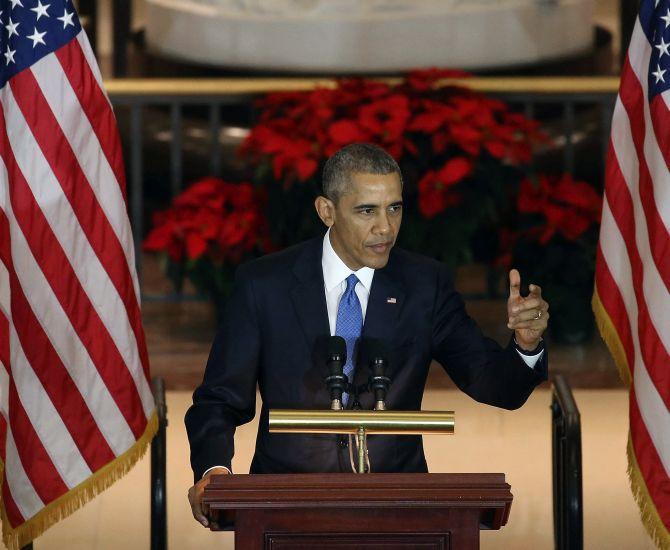 In a veiled attack on leading Republican presidential aspirant Donald Trump's anti-Muslim rhetoric, United States President Barack Obama has urged his countrymen to reject bigotry in all its forms.
"We condemn ourselves to shackles once more if we fail to answer those who wonder if they're truly equals in their communities, or in their justice systems, or in a job interview. We betray the efforts of the past if we fail to push back against bigotry in all its forms," Obama said on Wednesday at the Capitol while marking the end of slavery.
While Obama did not name Trump in his remarks, analysts said his statement was aimed towards some of the anti-Muslim rhetoric of the Republican presidential candidates including his call to ban all Muslims entering the United States.
"But we betray our most noble past as well if we were to deny the possibility of movement, the possibility of progress; if we were to let cynicism consume us and fear overwhelm us. If we lost hope," Obama said.
"For however slow, however incomplete, however harshly, loudly, rudely challenged at each point along our journey, in America, we can create the change that we seek," he said.
Acknowledging that Obama's message was quite contrary to the one delivered by the Republican candidate, White House Press Secretary Josh Earnest later told reporters that the US president had delivered similar messages in the past.
"I think this is quite consistent with the message the president has been delivering for a number of years," he said.
"It's a message that has resonated with a significant majority of the American population and, yes, it stands in quite stark contrast to the language, message, and values that's being promulgated not just by Trump, but by a variety of Republican candidates in the presidential field," Earnest said.
He said Obama's speech was a forceful and passionate defence of the kinds of values that the country has long defended.
"While serving in this office and even before serving in this office, the president took up the mantle of defending for and advocating for those values," Earnest said.
"At each turn over the course of our country's history, where we have perceived that our country has fallen short of our commitment to those values, we have, even in the face of significant obstacles, summoned the courage and the tenacity to overcome those obstacles and form a more perfect union," Earnest added.
Trump called for a "total and complete shutdown" of Muslims entering the US, in the wake of a mass shooting in California by a Muslim couple believed to have been radicalised.
The remark was the latest in a series of increasingly virulent remarks by Trump in recent weeks.
Image: US President Barack Obama speaks during a ceremony in Emancipation Hall at the US Capitol in Washington, DC. House and Senate Leaders hosted the ceremony to celebrate 150th anniversary of the ratification of the 13th Amendment to the US Constitution, which formally abolished slavery. Photograph: Mark Wilson/Getty Images